The Secret Gift of Lucia Lemon (Paperback)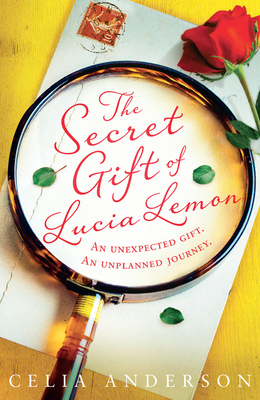 $16.99

Usually Ships in 1-5 Days
Description
---
Don't miss the enchanting, heartwarming new novel from the bestselling author...
'Uplifting with a magical quality' WOMAN
Took me on a trip I'll remember for a long time' BELLA OSBORNE
'Certain to make you laugh and cry' JENNI KEER
'An absolute joy' RUTH HOGAN
Years of mystery lie inside, just waiting to be unravelled...
After fifty-eight years of playing it safe, Lucia Lemon wants something more from life. If only she knew what...
Until she receives a package in the post from an old friend that will change her life forever. Inside, she finds a bundle of cash, a collection of old maps, and a beautiful compass that no longer points north.
Holding the compass in her hand, Lucia suddenly feels hopeful - for the first time ever, life feels full of possibility and the open road is calling. If only she's brave enough to answer it...
EVERYONE LOVES THE SECRET GIFT OF LUCIA LEMON
'Full of intrigue and fabulously quirky characters' Bella Osborne, bestselling author of The Promise of Summer
'A gorgeous, uplifting, poignant tale of love, friendship and second chances... A treat of a novel which will fill your heart with joy and soothe your soul' Annie Lyons, bestselling author of Eudora Honeysett is Quite Well, Thank You
'Celia has a way of writing upligting books with a magical quality ...] This is an enchanting read - and we loved it'Woman's Weekly
'Five lemon-yellow stars for this beauty ' Catherine Miller, bestselling author of The Girl Who Couldn't Leave
'I enjoyed and savoured every word' Julia Wild, author of The Secret Notebook
About the Author
---
Celia Anderson lives with her husband as far away from the sea as you can possibly get in mainland UK. She dreams of buying a cottage on the coast, which explains the regular appearances in her books of seaside places with wide, sandy beaches. Celia loves walking, reading, having large, bubbly baths, eating, and drinking wine. Over the years, she has found that all of these activities bar the first may be done simultaneously, although this can be messy.