A Registry of My Passage upon the Earth: Stories (Paperback)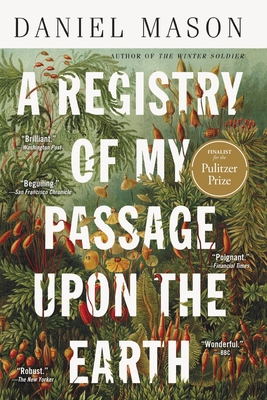 $16.99
Coming Soon - Available for Pre-Order Now
Description
---
"Nine tales of human endurance, accomplishment, and epiphany told with style and brio" (Kirkus) from the bestselling, award-winning author of The Winter Soldier and The Piano Tuner.
On a fateful flight, a balloonist makes a discovery that changes her life forever. A telegraph operator finds an unexpected companion in the middle of the Amazon. A doctor is beset by seizures, in which he is possessed by a second, perhaps better, version of himself. And in Regency London, a bare-knuckle fighter prepares to face his most fearsome opponent, while a young mother seeks a miraculous cure for her ailing son.
At times funny and irreverent, always moving and deeply urgent, these stories -- among them a National Magazine Award and a Pushcart Prize winner -- cap a fifteen-year project. From the Nile's depths to the highest reaches of the atmosphere, from volcano-racked islands to an asylum on the outskirts of Rio de Janeiro, these are tales of ecstasy, epiphany, and what the New York Times Magazine called the "struggle for survival . . . hand to hand, word to word," by "one of the finest prose stylists in American fiction."
About the Author
---
Daniel Mason is a physician and the author of the novels The Piano Tuner, A Far Country, and The Winter Soldier. His work has been translated into twenty-eight languages and adapted for opera and theater. A recipient of a fellowship from the National Endowment for the Arts, he is currently a clinical assistant professor of psychiatry at Stanford University, where he teaches courses in the humanities and medicine.
Praise For…
---
"Unique and beguiling... Mason's first short story collection is a treasure trove of lush scene setting in faraway times and places, from the wilds of England to the Malay Archipelago... A perfect and fitting pick for these seemingly endless days when science, our understanding of reality and a faint longing for human connection are so irrevocably intertwined."
—
Alexis Burling, San Francisco Chronicle
"What I've found most remarkable about Mason's fiction is the quality of his revelations, his ability to unveil temperaments, habits, natures. His stories are mysteries, albeit not in the genre sense... In all of the stories, you can see Mason figuring out new strategies to get closer to the people he is writing about. Each is a portrait, each a deep dive into an individual's nature, each rooted in history."
—
Wyatt Mason, New York Times Magazine
"Mason conveys more in a short story than many authors manage in an entire novel."
—
Christian Science Monitor
"Mason is particularly strong at depicting the state of mind a character works himself into when struggling with fear, uncertainty or even impostor syndrome… the subjects and settings provide a pleasing unity. The grand pleasures of fiction are all here: rich, cushioning detail; vivid characters delivering decisive action; and a sense of escape into a larger world."
—
John Self, The Guardian
"The characters in these robust short stories, set mostly in the nineteenth century, struggle as captains of their destinies."
—
The New Yorker
"A wonderful set of period tales that offer a welcome transportive escape... conjuring a vivid world of scientific endeavor and human isolation in myriad settings."
—
Mariella Frostrup, BBC
"Daniel Mason is a masterful storyteller, and these stories---the attention to history and science and all that is unknown---are nothing short of brilliant. With exquisite, mesmerizing language, he transports us to places far beyond the realm of our realities and then lands us in ways wholly intimate and moving.
A Registry Of My Passage Upon the Earth
is a marvel and a journey not to be missed."—
Jill McCorkle, New York Times bestselling author of Life After Life
"An enchanting cabinet of curiosities and wonders... Mason is one of our best historical novelists, creating panoramas of rich detail, propulsive plot, and artful character development... In his first story collection, he shows how quickly and completely he can immerse readers in a foreign place and time... Nine tales of human endurance, accomplishment, and epiphany told with style and brio."
—
Kirkus Reviews (starred review)
"Mason's melodious, introspective collection locates startling depth in a series of engrossing character studies... The title story is a standout, rendered in the form of a madman's ravings, in which a gifted writer is compelled to obsessively catalogue every poignant piece of human existence. Mason is a brilliant wordsmith... and respectful of his readers by not giving away too much. Each story is informed and deepened by scientific inquisitiveness, and rewards readers with understated philosophical insight. This showcases Mason's wide range and mastery of lyrical precision."
—
Publishers Weekly (starred review)
"Transporting... Pinpoint physical details and precisely articulated emotions collide with the mystical, while scientific quests drive characters to extremes... With touches of Borges and Calvino, Mason's fabulist stories are works of tenderness and awe for human curiosity, passion, mad valor, and profound resiliency."
—
Donna Seaman, Booklist
"A series of precisely crafted, often historically informed, stories about mystery and the unexpected turns of diverse lives."
—
Harvard Magazine