Hattie Ever After (Library Binding)
5/19 -- Curbside Pickup Available!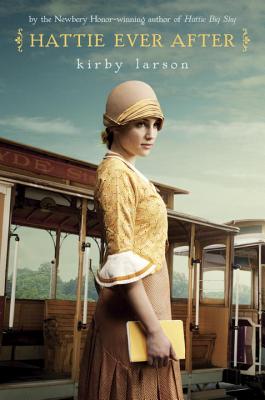 Spring '13 Kids List
---
"When Hattie Big Sky lost her crop to a hailstorm and with it her chance to keep her Montana homestead, we knew the plucky pioneer would make her way somehow. Larson's clever heroine takes a seamstress job that transports her to post-WWI San Francisco, where hems are rising and a young woman's resourcefulness and wit can earn her a career in this new era. From prairie to newsroom, Hattie remains both true to herself and determined to succeed. A delightful and well-researched novel."
— Cheryl McKeon, Book Passage, Corte Madera, CA
About the Author
---
After KIRBY LARSON heard a snippet of a story about her great-grandmother homesteading in eastern Montana, she went on to write "Hattie Big Sky, " winner of a 2007 Newbery Honor Award. This sequel was written in part to answer many questions readers posed about the irrepressible Hattie. Connect with the author on her blog (www.kirbyslane.blogspot.com) or via Twitter (@kirbylarson). "From the Hardcover edition."