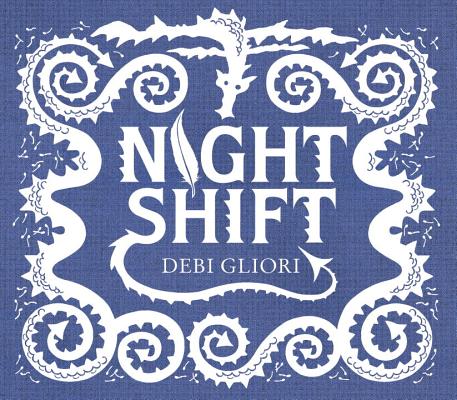 Description
---
"Scottish author and illustrator Debi Gliori's small but mighty picture book, Night Shift, is an eye-opening look at depression."—BookPage

"A poignant, empathetic and ultimately hopeful book."—School Library Journal 

"By giving depression physical dimension, Gliori diffuses some of its strange, persistent power."—Publishers Weekly

"Debi Gliori has given us all a powerful, and beautiful, gift with Night Shift."—Jay Asher, author of Thirteen Reasons Why and Piper, his first graphic novel, which he coauthored

"It's a masterpiece."—David Walliams, bestselling children's author 

From beloved author and illustrator Debi Gliori (No Matter What) comes Night Shift, a groundbreaking lushly illustrated picture book based on Gliori's own personal history with depression.

Fighting dragons is one way of fighting depression. This book is another.    

Through stunning black and white illustration and deceptively simple text, author and illustrator Debi Gliori provides a fascinating and absorbing portrait of depression and hope in Night Shift, a moving picture book about a young girl haunted by dragons. The young girl battles the dragons using 'night skills': skills that give her both the ability to survive inside her own darkness and the knowledge that nothing—not even long, dark nights filled with monsters—will last forever.   

Drawn from Gliori's own experiences and struggles with depression, the book concludes with a moving author's note explaining how depression has affected her and how she continues to cope. Gliori hopes that by sharing her own experience she can help others who suffer from depression, and to find that subtle shift that will show the way out.   

A brave and powerful book, give Night Shift to dragon fighters young and old, and any reader who needs to know they're not alone.
About the Author
---
Debi Gliori lives in Scotland. Debi is well known for both her picture books and her novels for children and has been shortlisted for all the major prizes, including the Kate Greenaway Award (twice) and the Scottish Arts Council Award. Debi was the Shetland Islands' first Children's Writer-in-Residence. She has written and illustrated No Matter What, The Trouble With Dragons, Stormy Weather, The Scariest Thing of All, What's the Time, Mr Wolf?, Dragon Loves Penguin and, most recently, Alfie in the Bath and Alfie in the Garden as well as the popular Pure Dead fiction series for older readers.
Praise For…
---
"A beautiful and important picture book for older readers...this is a book that instantly feels special and appropriate to the subject. A poignant, empathetic and ultimately hopeful book"
—School Library Journal
 
"In a small-format picture book aimed at a teenage and adult audience, Gliori (Side by Side) uses stark language and somber charcoal-like artwork to reflect on the weight and intensity of depression... By giving depression physical dimension, Gliori diffuses some of its strange, persistent power. "
—Publishers Weekly

Through stunning black and white illustration and deceptively simple text, Gliori provides a fascinating and absorbing portrait of depression and hope in Night Shift, a moving picture book about a young girl haunted by dragons."
—Book Riot

"I cannot recommend this beautiful picture book about depression by Debi Gliori highly enough. It's a masterpiece."
—David Walliams, bestselling children's author 

"It is healing to know the words—or have images—to describe hazy but crushing feelings. The words and images can also help others empathize. Whether we need understanding, or to understand, Debi Gliori has given us all a powerful, and beautiful, gift with Night Shift."
—Jay Asher, author of Thirteen Reasons Why and Piper, his first graphic novel, which he coauthored

"With exquisite brevity, Debi Gliori articulates the struggle of living with depression, in stunning black and white illustrations, punctuated by a single burst of the dragon of depression's fire. The spread where 'something shifted' and the depression lifts, is moving beyond words."  
 —Cressida Cowell, author and illustrator of the How to Train Your Dragon series