The Ministry of Utmost Happiness (Paperback)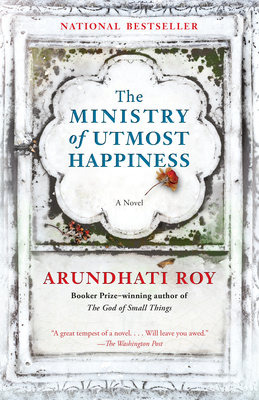 Description
---
National Bestseller 

Longlisted for the Man Booker Prize 

One of the Best Books of the Year: The Washington Post * The Boston Globe * Minneapolis Star Tribune * NPR * Newsday * The Guardian * Financial Times * The Christian Science Monitor 

The Ministry of Utmost Happiness takes us on an intimate journey across the Indian subcontinent—from the cramped neighborhoods of Old Delhi and the roads of the new city to the mountains and valleys of Kashmir and beyond, where war is peace and peace is war. Braiding together the lives of a diverse cast of characters who have been broken by the world they live in and then rescued, patched together by acts of love—and by hope, here Arundhati Roy reinvents what a novel can do and can be.
About the Author
---
Arundhati Roy is the author of The God of Small Things, which won the Booker Prize and has been translated into more than forty languages. She also has published several books of nonfiction including The End of Imagination, Capitalism: A Ghost Story and The Doctor and the Saint. She lives in New Delhi.
Praise For…
---
"A great tempest of a novel. . . . Will leave you awed." —The Washington Post

"Staggeringly beautiful. . . . Once a decade, if we are lucky, a novel emerges from the cinder pit of living that asks the urgent question of our global era. . . . Roy's novel is this decade's ecstatic and necessary answer." —The Boston Globe
 
"Powerful and moving. . . . Infused with so much passion—political, social, emotional—that it vibrates. It may leave you shaking, too." —San Francisco Chronicle

"Roy writes with astonishing vividness." —The New York Times Book Review
 
"Magisterial. . . . The Ministry of Utmost Happiness works its empathetic magic upon a breathtakingly broad slate." —O, The Oprah Magazine

"A fiercely unforgettable novel about gender, terrorism, Indian's caste system, corruption and politics. . . . A love story with characters so heartbreaking and compelling they sear themselves into the reader's brain." —USA Today

"Thrilling. . . . [Roy's] luminous passages span eras and regions of the Indian subcontinent and artfully weave the stories of several characters into a triumphant symphony." —Minneapolis Star Tribune
 
"A lustrously braided and populated tale." —Vanity Fair

"Roy's second novel proves as remarkable as her first. . . . Through [the characters'] archetypal interactions, juxtaposed with Roy's glorious social details, you will have been granted a powerful sense of their world, of the complexity, energy and diversity of contemporary India." —Financial Times

"Epic in scale, but intimately human in its concerns, the long-awaited story dazzles with its kaleidoscopic narrative approach and unforgettable characters." —Elle

"The novel weaves the personal and the political with powerful results. . . . Roy turns her lens outward to examine India's rich but violent history and the catastrophic lingering effects of Partition." —Esquire

"A riotous carnival, as wryly funny and irreverent as its author." —The Guardian

"A deeply rewarding work. . . . Images in The Ministry of Utmost Happiness . . . wedge themselves in the mind like memories of lived experience." —Slate

"Complex and ambitious. . . . A deep and richly satisfying read." —The Christian Science Monitor

"One of the best protest novels ever written. . . . Roy elucidates the conversation around power and diversity in a way that no other author does." —Los Angeles Review of Books

"A rich, romantic, and sprawling tale. . . . You're guaranteed to fall in love with the characters and be swept up by the writing." —Glamour

"Once again, Roy demonstrates her mastery of exquisite prose, visionary intelligence and a bent for epic storytelling." —The Seattle Times

"Haunting. . . . A passionate political masterpiece delivered in an enchanting array of narrative styles and voices." —The Times Literary Supplement

"Stunning. . . . Roy's lyrical sentences, and the ferocity of her narrative, are a wonder to behold." —Richmond Times-Dispatch