Royal Wedding Disaster (From the Notebooks of a Middle School Princess) (Prebound)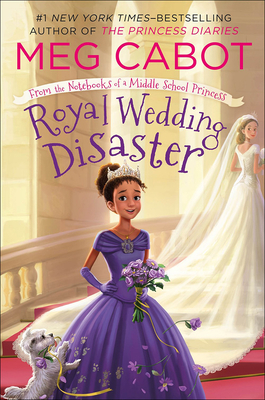 Staff Reviews
---
This is a spinoff of the popular Princess Diaries series. Olivia has just found out she is a Princess and the half sister of Princess Mia. She is moving from New Jersey to Genovia, starting a new school and taking Princess lessons.
— Anastasia
Description
---
You are invited to a Genovian Royal Wedding in this second book pulled From the Notebooks of a Middle School Princess, a Princess Diaries spin-off series, written and illustrated by New York Times-bestselling author Meg Cabot.
Olivia Grace Clarisse Mignonette Harrison still finds it hard to believe that she's a real live PRINCESS OF GENOVIA. Not only does she get to live in an actual palace with her newly discovered family and two fabulous poodles (who all love her and think that she's anything but ordinary ), but she also gets her very own PONY
Of course, things aren't going exactly like she imagined. Her half-sister Mia is very busy learning how to take over the country while trying to plan a wedding and her father is actually getting remarried himself to Mia's mother and spends most of his time"renovating" the summer palace, although Grandmere says he is just hiding from the wedding preparations. Olivia hardly gets to see either of them.
Fortunately, Grandmere has her own plans for Mia's wedding, and needs Olivia's help to pull them off. Just when Olivia starts to think that things are going to work out after all, the palace is invaded by a host of new cousins and other royals who all seem to be angry at Olivia (although Grandmere says they are just jealous). As the day of the wedding gets closer and closer, Olivia becomes more and more worried.
For such a carefully planned event, it seems like a LOT of things are going wrong... Can Olivia keep this royal wedding from becoming a royal disaster?
About the Author
---
Meg Cabot is the #1 New York Times bestselling author of the Princess Diaries series, with over 25 million copies of her books sold worldwide. Born and raised in Bloomington, Indiana, Meg also lived in Grenoble, France, and Carmel, California, before moving to New York City after graduating with a bachelor's degree in fine arts from Indiana University. She is the author of numerous books for adults and children, but From the Notebooks of a Middle School Princess is the first series she's illustrated. Meg Cabot currently lives in Key West with her husband and cat.