By the Lake (Vintage International) (Paperback)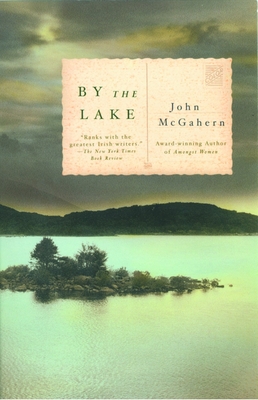 $17.60
Email or call for price.
Description
---
With this magnificently assured new novel, John McGahern reminds us why he has been called the Irish Chekhov, as he guides readers into a village in rural Ireland and deftly, compassionately traces its natural rhythms and the inner lives of its people. Here are the Ruttledges, who have forsaken the glitter of London to raise sheep and cattle, gentle Jamesie Murphy, whose appetite for gossip both charms and intimidates his neighbors, handsome John Quinn, perennially on the look-out for a new wife, and the town's richest man, a gruff, self-made magnate known as "the Shah."

Following his characters through the course of a year, through lambing and haying seasons, market days and family visits, McGahern lays bare their passions and regrets, their uneasy relationship with the modern world, their ancient intimacy with death.
About the Author
---
John McGahern was the author of five highly acclaimed novels and four collections of short stories. His novel Amongst Women won the GPA Book Award and the Irish Times Award, was short-listed for the Booker Prize, and was made into a four-part BBC television series. He had been a visiting professor at Colgate University and at the University of Victoria, British Columbia, and was the recipient of the Society of Authors' Award, the American-Irish Award, and the Prix Étrangère Ecureuil, among other awards and honors. His work appeared in anthologies and was translated into many languages. He died in 2006.
Praise For…
---
"Ranks with the greatest Irish writers: Joyce, Yeats, Synge, Beckett, Heaney." -The New York Times Book Review

"Subtly intricate. . . . McGahern's achievement in this autumnal novel is to remind us how much even a happy life can know of sorrow." -The Atlantic Monthly

"Every so often a book comes along that captures people, landscape and place in such a perfect rendering that you would recognize it instantly. . .By the Lake now moves onto this very short list."–The Seattle Times

"Deceptively wise. . . . Possesses the warm certainty of a writer who loves and respects every character . . . rascals and heroes alike, and who wants to deliver them to us in all their dimensions." -The Boston Globe

"The most perfect novel I've read in years." –Malcolm Jones, Newsweek

"Ireland's finest living fiction writer. . . .A gripping, poignant book." –Chicago Tribune

"This is the Irish temper, free of all the caricatures. . . . Writing this true, this unaffected–no wonder we celebrate the Irish." –The Dallas Morning News

"Wonderful. . . . No body of water has been so lovingly revered since Henry David Thoreau went to the woods.""–The Christian Science Monitor

"Has the appeal of a letter from home. . . . Wonderfully engaging." –Newsday

"His lyrical, almost painterly evocation of the activities he knows so intimately is well-displayed here."–The Washington Post

"Stumbling upon a novel like By the Lake is as rare a pleasure as finding an unspoiled country hideaway." –Minneapolis Star-Tribune

"McGahern enchants with simplicity and eloquence. . . . we are drawn into his corner of remote rural Ireland, its characters and their lives." –The Baltimore Sun

"McGahern's luminous threnody to the particulars and permutations of aging and change is captured in prose of the utmost simplicity and precision." –Kirkus Reviews (starred)

"This great and moving novel, which looks so quiet and provincial, opens out through its small frame to our most troubling and essential questions." –The Guardian

"This is a book to surrender yourself to. . . . you will find yourself in an intense, poetic world in which the simplest objects. . .take on a quiet but magical luminosity."–The Economist

"One of Ireland's most stupendous prose stylists, with an uncanny knack of homing in on the definitive moment, the illuminating detail." –The Independent

"This beautiful novel . . . bestows on the reader one of the principal gifts of fiction: that of having one's experience enlarged by a process of intense, almost resistless sympathy. Through intense concentration on the local, McGahern has again found a route to the universal." –The Times Literary Supplement

"A superb, earthly pastoral . . . a knowing, quick-witted performance . . . McGahern, a supreme chronicler [of] the closing chapters of traditional Irish rural life, has created a novel that lives and breathes." –The Irish Times

"When nature is rendered as vividly as this, it changes the character of fiction . . . McGahern has captured the ties of custom and affection that bind people to the land-and to each other." –Sunday Telegraph (London)