A is for Abigail: An Almanac of Amazing American Women (Hardcover)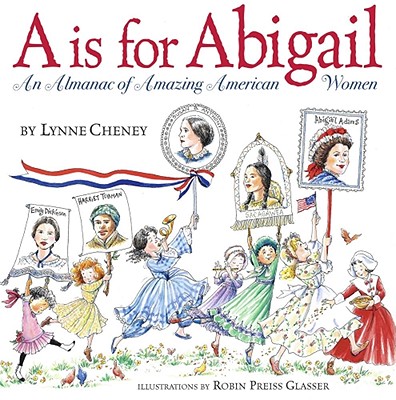 $19.99

Usually Ships in 1-5 Days
Description
---
Lynne Cheney and Robin Preiss Glasser collaborated on America: A Patriotic Primer, which captured the imagination of American children and became a national best-seller. Now they turn their hands to A is for Abigail: An Almanac of Amazing American Women and bring the great women of American history to life. Filled to the brim with words and pictures that celebrate the remarkable (although often unmarked) achievements of American women, this is a book to relish and to read again and again.
Mothers, daughters, schoolchildren, generations of families -- everyone -- will take Abigail Adams's words to heart and "remember the ladies" once they read the stories of these astonishing, astounding, amazing American women.
About the Author
---
Lynne Cheney's most recent book is the New York Times bestseller, We the People: The Story of Our Constitution, illustrated by Greg Harlin. She is also the author of the New York Times bestsellers America: A Patriotic Primer, A Is for Abigail: An Almanac of Amazing American Women, When Washington Crossed the Delaware: A Wintertime Story for Young Patriots, A Time for Freedom: What Happened When in America, and Our 50 States: A Family Adventure Across America, and has written a memoir, Blue Skies, No Fences. Mrs. Cheney is a senior fellow at the American Enterprise Institute and former chair of the National Endowment for the Humanities. She lives in Washington, DC, with her husband, Vice President Richard B. Cheney.