The Italian Teacher: A Novel (Paperback)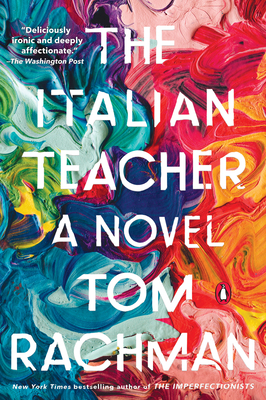 $17.60
Email or call for price.
April 2018 Indie Next List
---
"The same kinds of beautifully drawn, charming-but-flawed characters that made The Imperfectionists so wonderful also fill this novel, which follows Pinch (aka Charles), the son of famed painter Bear Bavinsky, as he grows up and struggles to make a name for himself. The book begins with Pinch and his mother, a failed potter, living in Rome in the 1950s in the shadow of Bear's celebrity and forceful personality. With evocative descriptions of the various cities in which it's set, The Italian Teacher is perfect for readers who want to be drawn into the lives of vivid characters and explore the meaning of art, family, and one's personal legacy."
— Laura Tischler, Solid State Books, Washington, DC
Description
---
"An exotic touch of intrigue arises in THE ITALIAN TEACHER . . . deliciously ironic and deeply affectionate."—Ron Charles, The Washington Post
 
A masterful novel about the son of a great painter striving to create his own legacy, by the bestselling author of The Imperfectionists.

Conceived while his father, Bear, cavorted around Rome in the 1950s, Pinch learns quickly that Bear's genius trumps all. After Bear abandons his family, Pinch strives to make himself worthy of his father's attention--first trying to be a painter himself; then resolving to write his father's biography; eventually settling, disillusioned, into a job as an Italian teacher in London. But when Bear dies, Pinch hatches a scheme to secure his father's legacy--and make his own mark on the world.

With his signature humanity and humor, Tom Rachman examines a life lived in the shadow of greatness, cementing his place among his generation's most exciting literary voices.
About the Author
---
Tom Rachman is the author of two novels, The Rise & Fall of Great Powers (2014), and The Imperfectionists (2010), an international bestseller that has been translated into 25 languages. Rachman, who was born in London in 1974 and raised in Vancouver, studied journalism at Columbia University in New York. In 1998, he joined the Associated Press as a foreign-desk editor in New York, then became a correspondent in Rome in 2002. His writing has appeared in The New York Times, The Wall Street Journal, The Guardian, Slate and The New Statesman, among other publications. He lives in London.
Praise For…
---
Named a Most Anticipated Book of 2018 by The Wall Street Journal, Huffington Post, Amazon.com, Instyle, Poets and Writers, Southern Living, Seattle Times, Chicago Review of Books, Newsday, The Boston Herald, and more

 
"Rachman is a brilliant choreographer of skewed desires . . . He has a deft way of describing atrocious behavior without damning his characters, without suggestions that they're entirely circumscribed by their worst acts. His comedy is tempered by a kind of a gentleness that's a salve in these mean times . . . An exotic touch of intrigue arises in THE ITALIAN TEACHER . . . Rachman brings his own, warmer touch to the crime, transforming it into a surprising act of defiance that's both deliciously ironic and deeply affectionate."—Ron Charles, The Washington Post

"Engaging and subtle . . . Rachman appears in perfect control of his material . . . engrossing, by turns gently humorous . . . The Italian Teacher is a psychologically nuanced pleasure." — New York Times Book Review

"A poignant, touching tale about living in the shadow of a brazen artistic genius. . . Unforgettable." –USA Today

"Masterfully illustrates how malicious a father-son rivalry can be." — People

"The reliably excellent Rachman this time offers a nuanced, fascinating portrait of a celebrated painter looking ahead to his legacy." – Entertainment Weekly
 
"Pencils down, brushes up: Rachman goes beyond the base coat with THE ITALIAN TEACHER, a portrait of a son his large-scale father." – Vanity Fair

"In The Italian Teacher, Rachman manages to conjure a fresh perspective on fame and its destructive effects on the people ensnared by it. Instead of running toward celebrity, readers may find themselves instead turning around and running away." — Chicago Tribune

 
"Rachman wrestles with age-old questions: What is the purpose of art? How do we judge excellence? Does fame matter? . . . [THE ITALIAN TEACHER] moves with the energy and gusto of Bear. With Pinch/Charles, it broods and hopes and plumbs the depths. That's a lot to expect of any novel, yet THE ITALIAN TEACHER delivers in spades."—Dan Cryer, San Francisco Chronicle

"[THE ITALIAN TEACHER] takes satisfyingly unexpected turns, especially when the reader might expect a clichéd depiction of father-son strife. And Rachman offers a nuanced portrait of talented people whose lives don't work out the way they had hoped."—Newsday

"[An] artful page-turner." —Publishers Weekly, Starred Review
 
"A momentous drama of a volatile relationship and the fundamental will to survive." —Booklist, starred review

"The Italian Teacher is a rich novel with a colorful cast of memorable characters." —Hello Giggles

"Along with the skewering of art-world and academic pretensions, there is humor, humanity, and compassion in Rachman's writing. For most fiction readers." —Library Journal

"The Italian Teacher is a marvel--an entertaining, heartbreaking novel about art, family, loyalty, and authenticity. Tom Rachman is an enormously talented writer--this book is alive, from the first page to the last." —Tom Perotta, bestselling author of The Leftovers


Praise for Tom Rachman:

"[Rachman] writes perfectly and with a warm, twinkling-eyed generosity toward human behavior that does not get in the way of his pitiless observation of it." — Lorrie Moore, The New Yorker

"[The Imperfectionists is] so good I had to read it twice simply to figure out how he pulled it off. I still haven't answered that question, nor do I know how someone so young could have acquired such a precocious grasp of human foibles. The novel is alternately hilarious and heart-wrenching, and it's assembled like a Rubik's Cube." --Christopher Buckley, The New York Times 

"Mr. Rachman's transition from journalism to fiction writing is nothing short of spectacular. The Imperfectionists is a splendid original, filled with wit and structured so ingeniously that figuring out where the author is headed is half the reader's fun. The other half comes from his sparkling descriptions not only of newspaper office denizens but of the tricks of their trade, presented in language that is smartly satirical yet brimming with affection." --Janet Maslin, The New York Times