Big Blue Whale: Read and Wonder (Paperback)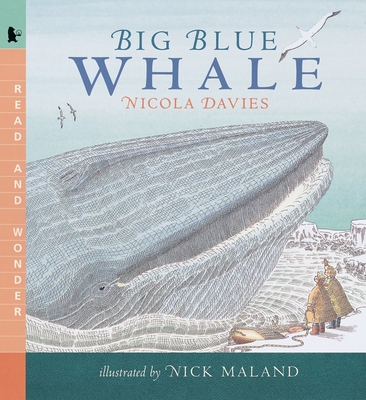 Description
---
Equally majestic as the biggest animal that has ever lived — the Big Blue Whale.

Read and Wonder books tell stories, take children on adventures,
and reveal how big and WONDER-full the natural world really is.
Back matter includes an index.
About the Author
---
Nicola Davies says, "Now there is so much man-made noise in the ocean that the blue whales are having trouble hearing one another. Unlike humpbacks, their booming hums are infrequent, so it is always exciting when we locate one."

Nick Maland says, "I have illustrated for newspapers and magazines over the years, but it was not until my daughter was born that
I turned to children's books!"
Praise For…
---
Two whale experts communicate huge enthusiasm for their subject...light-hearted [and] fact-filled...Varied typefaces add further verve. Delicate ink crosshatching with watery washes both emphasize the whale's enormity and show it to be dwarfed by the vastness of the ocean.
—Publishers Weekly

[T]he blue whale gets an up-close look in this artfully composed study. Zoological facts are phrased to suit the book's inviting picture book format...This book will definitely satisfy youngsters' curiosity about 'the biggest creature that has ever lived on Earth!'
—Booklist