The Lost Ship (Paperback)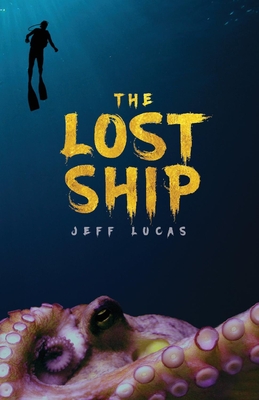 $19.95

Usually Ships in 1-5 Days
Description
---
A fearless sixth-grader dives alone in the ocean with a single mission: to photograph an octopus. What confronts him is nothing short of astounding.

This fast-paced and illuminating middle-grade novel takes readers on an undersea exploration and adventure. A book like none other, combining a wealth of oceanic facts and marine lore with a generous dollop of imagination.

Jack is a 12-year-old amateur diver who lives in Bounty Bay, a haven for an abundance of marine life with its proximity to the vibrant reef. When his sixth-grade school assignment has him set on procuring an elusive photograph of an octopus, he unknowingly begins an oceanic quest that is life changing when he befriends a talking octopus. Author Jeff Lucas masterfully weaves an enthralling and enchanting middle-grade story with The Lost Ship, a novel of friendship and determination set against a backdrop of the world's biggest wonder: the ocean.

Jack secretly embarks on the dive, taking his gear and some gadgets invented by his dad including a "scubaphone," a device that allows divers to communicate without a tablet (one was recently lost on an ocean outing). When Jack soon spots an octopus, he is elated...and astonished to find that it can speak! Armstrong, as the affable animal calls himself, is the proud owner of the lost scubaphone, enabling him to chat with a flummoxed Jack. From listening to passing boaters and divers over time, including Jack's dad and his assistant Max, Armstrong has an excellent command of language...and impeccable manners, to boot! A wary Jack is appeased when his eight-armed companion tells him, "Look, Jack, I don't intend to eat you...We're going to be friends."

The duo's friendship is solidly secured when Jack helps his new pal in a two-on-one fight to the death with a green moray eel, an octopus's worst enemy. As Jack explores the wonder and beauty of the thriving and plentiful sea life surrounding him, Armstrong tells him a story from his youth when he saw a wooden ship resting on the ocean floor hidden away in a deep, dark cavern. Jack immediately recognizes that this find could be "one of the greatest maritime discoveries in history," and the pair have a new mission: to find the old wooden sailing ship.

It turns out, Armstrong is a walking—er, swimming—encyclopedia of knowledge about the vast multitude of marine life. Along their journey, Jack learns from Armstrong that a sea lily is not a plant but an animal and has been around for more than 400 million years; a torpedo ray can give a terrible electric shock of two hundred volts; an olive-green sea snake has a venomous bite ten times more powerful than a king cobra's; and barrel sponges can live more than 2,000 years. But the most important fact that Armstrong shares with Jack is that the ocean has a critical symbiosis among its living creatures that helps to maintain nature's fragile balance: all have their purpose.

As Jack and Armstrong close in on the location of the relic lost ship, they are confronted with a deadly earthquake, a treacherous marine trench, unpleasant animal strife, and a collapsing cave. But this is nothing compared to the most dangerous encounter of all: humans. The fate of this historic archaeological discovery is in the hands—and arms—of Jack and his new friend...if they can outwit and outpace the villainous treasure hunters before it's too late.

Author Jeff Lucas did extensive research and consulted with a marine biologist for the facts and accuracy of The Lost Ship. A portion of the book's proceeds will be donated to The Nature Conservancy, whose mission is to conserve the lands and waters throughout the world.
About the Author
---
When author Jeff Lucas encountered an octopus at age twelve, little did he know how profoundly that would affect his future writing journey. He later found out how intelligent the species is, and it became the central theme of The Lost Ship. Jeff did extensive research and consulted with a marine biologist for the facts and accuracy of his story. He lives in Seattle where he enjoys fencing, gardening, and listening to baroque music. This is his second published book.