A Brotherhood of Spies: The U-2 and the CIA's Secret War (Paperback)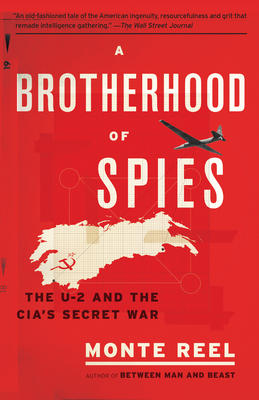 Description
---
A thrilling dramatic narrative of the top-secret Cold War-era spy plane operation that transformed the CIA and brought the U.S. and the Soviet Union to the brink of disaster

On May 1, 1960, an American U-2 spy plane was shot down over the Soviet Union just weeks before a peace summit between the two nations. The CIA concocted a cover story for President Eisenhower to deliver, assuring him that no one could have survived a fall from that altitude. And even if pilot Francis Gary Powers had survived, he had been supplied with a poison pin with which to commit suicide.
     But against all odds, Powers emerged from the wreckage and was seized by the KGB. He confessed to espionage charges, revealing to the world that Eisenhower had just lied to the American people--and to the Soviet Premier. Infuriated, Nikita Khrushchev slammed the door on a rare opening in Cold War relations.
     In A Brotherhood of Spies, award-winning journalist Monte Reel reveals how the U-2 spy program, principally devised by four men working in secret, upended the Cold War and carved a new mission for the CIA. This secret fraternity, made up of Edwin Land, best known as the inventor of instant photography and the head of Polaroid Corporation; Kelly Johnson, a hard-charging taskmaster from Lockheed; Richard Bissell, the secretive and ambitious spymaster; and ace Air Force flyer Powers, set out to replace yesterday's fallible human spies with tomorrow's undetectable eye in the sky. Their clandestine successes and all-too-public failures make this brilliantly reported account a true-life thriller with the highest stakes and tragic repercussions.
About the Author
---
MONTE REEL is the author of two previous books, Between Man and Beast and The Last of the Tribe. His writing has appeared in The New Yorker, The New York Times Magazine, Harper's, and other magazines. He currently writes for Bloomberg Businessweek as part of its Projects & Investigations staff, and previously was a foreign correspondent for The Washington Post. He lives in Illinois.
Praise For…
---
"A Brotherhood of Spies is an old-fashioned tale of the American ingenuity, resourcefulness and grit that remade intelligence gathering . . . Casts intriguing light on this familiar history. The rock-steady, nuanced leadership of Ike and JFK in these crises, supported by deeply experienced advisers desperately seeking to avert nuclear war, is a sobering contrast to today's White House melodramas."
—Edward Kosner, Wall Street Journal

"[A] fresh and fascinating life to an oft-told story by concentrating on the four men who were instrumental in the U-2 story."
—The Washington Times

"A brilliant investigation into one of the most important—and least examined—milestones of the Cold War. With a novelist's eye for the telling detail, Monte Reel gets into the minds of the remarkably small group of men who masterminded the top-secret U-2 spy plane program, and their coldblooded calculation that, in the event of a mishap, no pilot should survive to tell of it. At the book's core is the deeply poignant story of Francis Gary Powers, the man who against all odds did survive, and how he and his wife, Barbara, became pawns in an international political chess game. A wonderful read."
—Scott Anderson, New York Times bestselling author of Lawrence in Arabia
 
"The story of an amazing bird, the U-2 spy plane, soaring to the heavens, and the men who built and flew her, a triumph of ingenuity and daring on the frontier of the Cold War. Monte Reel brings power and verve to an unforgettable drama."
—David E. Hoffman, winner of the Pulitzer Prize and author of the New York Times bestseller The Billion Dollar Spy: A True Story of Cold War Espionage and Betrayal
 
"A classic Cold War tale of human bravery, technological bravado, and political skullduggery. Monte Reel tells the story with brio and empathy, marshaling a colorful cast of characters as brilliant—and flawed—as the extraordinary spy plane that changed their lives, for both better and worse. He guides the reader expertly through a once-top-secret labyrinth where noble ends were invoked to justify ignoble means and daring and deceit became inextricably intertwined. Highly recommended!"
—Michael Dobbs, author of One Minute to Midnight: Kennedy, Khrushchev, and Castro on the Brink of Nuclear War
 
"High above the grey clouds of the Cold War, Monte Reel has discovered a vivid tale of inventors, scientists, spymasters, and the eternal tension between truth and secrecy at the highest levels of American power. Paced like a thriller, A Brotherhood of Spies throws new light on famous moments of nuclear brinkmanship and raises troubling questions about the world we live in right now."
—Jason Fagone, author of the national bestseller The Woman Who Smashed Codes
 
"The most riveting tales of history are those where the fate of millions hangs on the actions of a few. The U-2 crisis of 1960 is one such story, and it has never been told with greater verve or closer attention to critical detail."
—H.W. Brands, New York Times bestselling author of The General vs. the President

"A gripping work of narrative nonfiction . . . This exemplary work provides a wholly satisfying take on a central chapter of the Cold War—a dramatic story of zeal and adventure."
—Publishers Weekly, starred review

"Captivating . . . A richly detailed, well-researched, and engagingly written book that takes us behind the scenesof one of the twentieth-century's most nail-bitingly tense episodes."
—Booklist