From the Notebooks of a Middle School Princess: Meg Cabot; Read by Kathleen McInerney (Hardcover)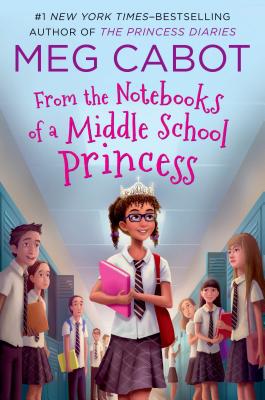 $18.69
Email or call for price.
Staff Reviews
---
This is a spinoff of the popular Princess Diaries series. Olivia has just found out she is a Princess and the half sister of Princess Mia. She is moving from New Jersey to Genovia, starting a new school and taking Princess lessons.
— Anastasia
Description
---
Return to the world of Meg Cabot's bestselling and beloved Princess Diaries series in From the Notebooks of a Middle School Princess—this time through the illustrated diary of a spunky new heroine: Princess Mia's long lost half-sister, Olivia!

Olivia Grace Clarisse Mignonette Harrison is a completely average twelve-year-old: average height, average weight, average brown hair of average length, average brown skin and average hazel eyes. The only things about her that aren't average are her name (too long and princess themed), her ability to draw animals (useful for her future career as a wildlife illustrator), and the fact that she is a half-orphan who has never met her father and is forced to live with her aunt and uncle (who treat her almost like their own kids, so she doesn't want to complain).

Then one completely average day, everything goes wrong: the most popular girl in school, Annabelle Jenkins, threatens to beat her up, the principal gives her a demerit, and she's knocked down at the bus stop . . .

Until a limo containing Princess Mia Thermopolis of Genovia pulls up to invite her to New York to finally meet her father, who promptly invites her to come live with him, Mia, Grandmère and her two fabulous poodles . . . .

Maybe Olivia Grace Clarisse Mignonette Harrison isn't so average after all!
About the Author
---
Meg Cabot is the #1 New York Times-bestselling author of the beloved and critically acclaimed Princess Diaries series, which were made into wildly popular Disney movies of the same name. There have been over 25 million copies of Meg's books for both adults and teens/tweens sold in 38 countries. Her last name rhymes with habit, as in "her books can be habit-forming." She currently lives in Key West, Florida, with her husband and various cats.
Praise For…
---
"The nation of Genovia gains a new resident in this amusing spin-off...Cabot's own black and white cartoons further enliven Olivia's entertaining and candid notebook entries, which will have readers looking forward to her future escapades." —Publishers Weekly

"Cabot manages to combine wit and lavish details to positive effect...newcomers to the Cabot magic will be charmed. A sweet fantasy, both funny and highly satisfying." —Kirkus

"Olivia, who's biracial, is a lively, engaging character whose peppy, often-wry diary-style narrative details her experiences and progressive discoveries about her background, royal life, and the true meaning of family....this entertaining, quickly absorbing read will have readers anticipating the sequel." —Booklist

"Author Meg Cabot is ready to put her tiara back on [with] a new character, Olivia Grace. She's a middle-school girl in New Jersey who discovers she is Princess Mia's long-lost half-sister. And much like her older sister, she will be thrust into the royal spotlight and will chronicle the adventure in a journal, complete with drawings." —USA Today

"This sweet and sassy spin-off featuring the younger half-sister of Princess Mia Thermopolis ...will be a perfect fit for Fancy Nancy alumni and readers not quite ready for Cabot's longer novels." —School Library Journal

"Olivia has an amusing and self-deprecating wit that makes the narration breezy and accessible, and Cabot's black and white illustrations liven up the tale. Youngsters who aspire to be the next Kate Middleton will find this enchanting and perhaps instructional." —BCCB