Royal Wedding Disaster: From the Notebooks of a Middle School Princess (Paperback)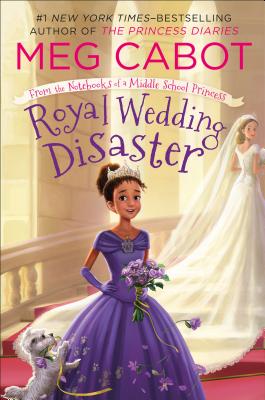 Staff Reviews
---
This is a spinoff of the popular Princess Diaries series. Olivia has just found out she is a Princess and the half sister of Princess Mia. She is moving from New Jersey to Genovia, starting a new school and taking Princess lessons.
— Anastasia
Description
---
You are invited to a Genovian Royal Wedding in this second book pulled From the Notebooks of a Middle School Princess, a Princess Diaries spin-off series, written and illustrated by New York Times-bestselling author Meg Cabot.

Olivia Grace Clarisse Mignonette Harrison still finds it hard to believe that she's a real live PRINCESS OF GENOVIA. Not only does she get to live in an actual palace with her newly discovered family and two fabulous poodles (who all love her and think that she's anything but ordinary!), but she also gets her very own PONY!

Of course, things aren't going exactly like she imagined. Her half-sister Mia is very busy learning how to take over the country while trying to plan a wedding and her father is actually getting remarried himself—to Mia's mother!—and spends most of his time "renovating" the summer palace, although Grandmere says he is just hiding from the wedding preparations. Olivia hardly gets to see either of them.

Fortunately, Grandmere has her own plans for Mia's wedding, and needs Olivia's help to pull them off. Just when Olivia starts to think that things are going to work out after all, the palace is invaded by a host of new cousins and other royals who all seem to be angry at Olivia (although Grandmere says they are just jealous). As the day of the wedding gets closer and closer, Olivia becomes more and more worried.

For such a carefully planned event, it seems like a LOT of things are going wrong. . . . Can Olivia keep this royal wedding from becoming a royal disaster?

This is fun, illustrated middle grade—and this is the first series illustrated by Meg Cabot herself! The paperback features an interview with Meg Cabot and an excerpt of the next book.

Don't miss any of the fun—check out all of the From The Notebooks of a Middle School Princess series:
From the Notebooks of a Middle School Princess (Book 1)
Royal Wedding Disaster (Book 2)
Royal Crush (Book 3)
Royal Crown (Book 4)

Praise for the From the Notebooks of a Middle School Princess series:

"In her journal-style narrative incorporating both humorous and touching moments, likable, engaging Olivia continues to navigate the joys and challenges of being a modern-day princess." —School Library Journal on Royal Wedding Disaster

"Readers will thrill to tag along on this festive adventure, presented as Olivia Grace's illustrated diary." —Children's Literature on Royal Wedding Disaster
About the Author
---
Meg Cabot is the #1 New York Times-bestselling author of the beloved and critically acclaimed Princess Diaries series, which were made into wildly popular Disney movies of the same name. There have been over 25 million copies of Meg's books for both adults and teens/tweens sold in 38 countries. Her last name rhymes with habit, as in "her books can be habit-forming." She currently lives in Key West, Florida, with her husband and various cats.
Praise For…
---
Praise for the From the Notebooks of a Middle School Princess series:

"In her journal-style narrative incorporating both humorous and touching moments, likable, engaging Olivia continues to navigate the joys and challenges of being a modern-day princess." —School Library Journal on Royal Wedding Disaster

"Readers will thrill to tag along on this festive adventure, presented as Olivia Grace's illustrated diary." —Children's Literature on Royal Wedding Disaster

"Author Meg Cabot is ready to put her tiara back on [with] a new character." —USA Today on From the Notebooks of a Middle School Princess

"The nation of Genovia gains a new resident in this amusing spin-off. . . . Cabot's own black and white cartoons further enliven Olivia's entertaining and candid notebook entries, which will have readers looking forward to her future escapades." —Publishers Weekly on From the Notebooks of a Middle School Princess

"Cabot manages to combine wit and lavish details to positive effect...newcomers to the Cabot magic will be charmed. A sweet fantasy, both funny and highly satisfying." —Kirkus Reviews on From the Notebooks of a Middle School Princess

"This entertaining, quickly absorbing read will have readers anticipating the sequel." —Booklist on From the Notebooks of a Middle School Princess

"This sweet and sassy spin-off featuring the younger half-sister of Princess Mia Thermopolis. . . . will be a perfect fit for Fancy Nancy alumni and readers not quite ready for Cabot's longer novels." —School Library Journal on From the Notebooks of a Middle School Princess