Oona Out of Order: A Novel (CD-Audio)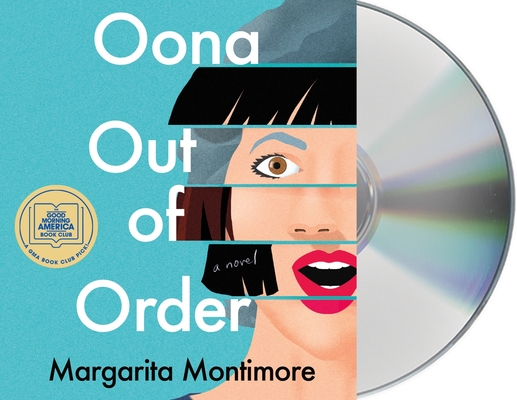 March 2020 Indie Next List
---
"Oona Lockhart has been cursed (or blessed) with a magical wrinkle in time that has her leaping forward and back through the years. Inside she is aging chronologically, but on the outside, Oona is sometimes 51, 30, or 26 years old. A life lived out of order, however, can be just as valid as a life lived forward. Surprising, bittersweet, and filled with love, Oona discovers both the wisdom of age and the spontaneity of youth. Don't miss out on what is sure to be the most enchanted reading experience of 2020."
— Pamela Klinger-Horn, Excelsior Bay Books, Excelsior, MN
Description
---
A GOOD MORNING AMERICA BOOK CLUB PICK!
"Reminiscent of Liane Moriarty's What Alice Forgot and Kate Atkinson's Life After Life, Oona Out of Order is a delightfully freewheeling romp." —Booklist (starred review)

Oona Out of Order is a remarkably inventive novel that explores what it means to live a life fully in the moment, even if those moments are out of sequence.
Just because life may be out of order, doesn't mean it's broken.
It's New Year's Eve 1982, and Oona Lockhart has her whole life before her. At the stroke of midnight she will turn nineteen, and the year ahead promises to be one of consequence. Should she go to London to study economics, or remain at home in Brooklyn to pursue her passion for music and be with her boyfriend? As the countdown to the New Year begins, Oona faints and awakens thirty-two years in the future in her fifty-one-year-old body. Greeted by a friendly stranger in a beautiful house she's told is her own, Oona learns that with each passing year she will leap to another age at random. And so begins Oona Out of Order...
Hopping through decades, pop culture fads, and much-needed stock tips, Oona is still a young woman on the inside but ever changing on the outside. Who will she be next year? Philanthropist? Club Kid? World traveler? Wife to a man she's never met?
Surprising, magical, and heart-wrenching, Margarita Montimore has crafted an unforgettable story about the burdens of time, the endurance of love, and the power of family.
A Macmillan Audio production from Flatiron Books
About the Author
---
After receiving a BFA in Creative Writing from Emerson College, Margarita Montimore worked for over a decade in publishing and social media before deciding to focus on the writing dream full-time. The author of Asleep from Day and Oona Out of Order, she lives in New Jersey with her husband and dog.

Brittany Pressley is an Audiofile Earphones award winning narrator in NYC. She has recorded over 100 titles and has received several nominations for American Library Association's annual list of Amazing Audiobooks for Young Adults. She is also an accomplished singer/songwriter and voice actress. Her voice can be heard on national and international TV and radio commercials as well as several animated series and video games. She is a proud graduate of Columbia University.