A Slight Trick of the Mind (Paperback)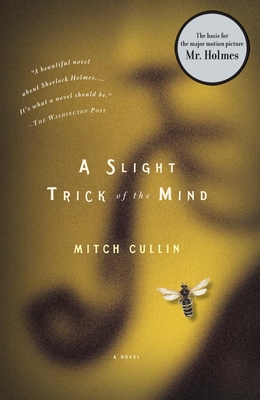 Description
---
The basis for the Major Motion Picture Mr. Holmes starring Ian McKellen and Laura Linney and directed by Bill Condon.

It is 1947, and the long-retired Sherlock Holmes, now 93, lives in a remote Sussex farmhouse with his housekeeper and her young son. He tends to his bees, writes in his journal, and grapples with the diminishing powers of his mind. But in the twilight of his life, as people continue to look to him for answers, Holmes revisits a case that may provide him with answers of his own to questions he didn't even know he was asking–about life, about love, and about the limits of the mind's ability to know. A novel of exceptional grace and literary sensitivity, A Slight Trick of the Mind is a brilliant imagining of our greatest fictional detective and a stunning inquiry into the mysteries of human connection.
About the Author
---
MITCH CULLIN is the author of ten books, including A Slight Trick of the Mind, Tideland, and Branches, a novel-in-verse. His fiction has been translated into over 20 languages. He currently lives near Los Angeles, where he is working as a photographer while also collaborating on various projects with Peter I. Chang. He can be found on Facebook at www.facebook.com/mitchthecullin.
Praise For…
---
"A beautiful novel about Sherlock Holmes. . . . It's what a novel should be." —The Washington Post

"Wonderfully written and heartbreaking." —San Francisco Chronicle

"A wise and touching examination of the human condition." —Los Angeles Times Book Review

"Quite extraordinary. . . . Our hero—our eternal hero—has never been more heroic, or more human." —The Village Voice

"Beautiful. . . . Cullin is an unusually sophisticated theorist of human nature." —The New York Times Book Review