The Dark Knight Returns Slipcase Set (Boxed Set)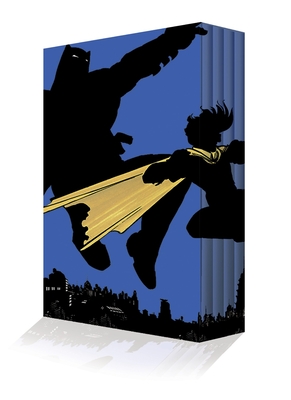 Description
---
The anniversary celebration of Frank Miller's epic interpretation of the Dark Knight's future continues with this new slipcase edition that reprints each issue of the original Dark Knight Returns miniseries in its own hardcover volume, all in a beautifully designed slipcase. It is ten years after an aging Batman has retired, and Gotham City has sunk into decadence and lawlessness. Now, as his city needs him most, the Dark Knight returns in a blaze of glory. Joined by Carrie Kelly, a teenaged Robin, Batman takes to the streets to end the threat of the mutant gangs that have overrun the city. And after facing off against The Joker and Two-Face for the final time, Batman finds himself in mortal combat with his former ally, Superman, in a battle that only one will survive. 

Collects Batman: The Dark Knight Returns #1-4.
About the Author
---
Frank Miller began his career in comics in the late 1970s and rose to fame while first drawing, and then writing, Daredevil for Marvel Comics. He is also the creative force behind Batman: The Dark Knight Returns, Batman: Year One, Batman: The Dark Knight Strikes Again and Dark Knight Iii: The Master Race. His many works have not only redefined classic characters, but also, on a few occasions, revitalized the comics industry. His multi-award-winning graphic novel 300 was brought to full-blooded life in the 2007 motion picture of the same name, and in 2008 he directed the feature film Will Eisner's The Spirit. His creator-owned crime saga Sin City first hit the page in 1991, and then the silver screen in 2005, with Miller on board as co-director with Robert Rodriguez. The two returned to direct the sequel Sin City: A Dame to Kill For, released in 2014 and featuring two new stories by Miller.