Sweet Tooth Book Three (Paperback)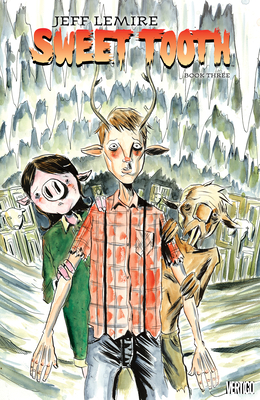 $27.49

Usually Ships in 1-5 Days
Description
---
Now a Netflix Original Series!

After years of the deadly Affliction, those who remain--the surviving humans and the new generation of animal-hybrid children--are searching for answers. And one place in all the world seems to have them: northern Alaska.

It was in this faraway, frozen wilderness that the Affliction first took root, before eventually spreading its devastation throughout the globe. Gus, Jepperd, and their friends travel north to the remote research outpost where Gus was born in the hope that understanding the plague's source will lead to a cure.

What power was unleashed in the frozen tundra? Can it be stopped? Even if the survivors reach their goal, there might not be anything left of humanity to save...

Gus and Jepperd's postapocalyptic journey comes to a heart-stopping, heartbreaking conclusion in this final volume, written and illustrated by Jeff Lemire (Descender, Green Arrow) with additional art by Matt Kindt (Mind MGMT). Sweet Tooth Book Three collects issues #26-40, as well as never-before-seen sketches and an interview with the author and Damon Lindelof (co-creator of Lost and The Leftovers).
About the Author
---
Award-winning Canadian cartoonist Jeff Lemire is the creator of the acclaimed monthly comic book series Sweet Tooth published by DC/Vertigo and the award-winning graphic novel Essex County published by Top Shelf. He also writes Animal Man, Frankenstein Agent of S.H.A.D.E., and Superboy for DC Comics. In 2008 Jeff won the Shuster Award for Best Canadian Cartoonist and the Doug Wright Award for Best Emerging Talent. He also won the American Library Association's prestigious Alex Award, recognizing books for adults with specific teen appeal. In 2010 Essex County was named as one of the five Essential Canadian Novels of the Decade. In 2013 Lemire published the graphic novel The Underwater Welder. He currently lives and works in Toronto with his wife and son.
Praise For…
---
"Sweet Tooth is like Mad Max with antlers… Spellbinding and offbeat." —USA Today
 
"Bloody and gentle all at once… Brilliant." —New York Magazine