The Legend of Buddy Bush (Mass Market)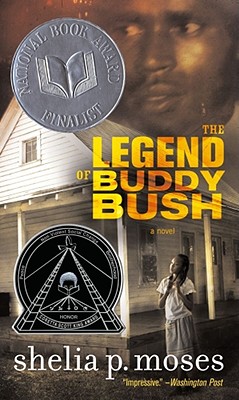 $6.99
Email or call for price.
Description
---
The day Uncle Goodwin "Buddy" Bush came from Harlem all the way back home to Rehobeth Road in Rich Square, North Carolina, is the day twelve-year-old Pattie Mae Sheals' life changes forever.
Pattie Mae adores and admires Uncle Buddy -- he's tall and handsome and he doesn't believe in the country stuff most people believe in, like ghosts and stepping off the sidewalk to let white folks pass. He unsettles the dust and brings fresh ideas to Rehobeth Road. But when Buddy's deliberate inattention to the protocol of 1947 North Carolina lands him in jail for a crime he didn't commit, Pattie Mae and her family are suddenly set to journeying on the long, hard road that leads from loss and rage to forgiveness and pride.
About the Author
---
Poet, author, playwright, and producer Shelia P. Moses was raised the ninth of ten children on Rehobeth Road in Rich Square, North Carolina. She is the coauthor of Dick Gregory's memoir, Callus on My Soul, as well as the award-winning author of several books for young readers: The Legend of Buddy Bush; The Return of Buddy Bush; I, Dred Scott: A Fictional Slave Narrative Based on the Life and Legal Precedent of Dred Scott; and The Baptism. Shelia lives in Atlanta, Georgia.
Praise For…
---
"Impressive."
-- Washington Post

"The Legend of Buddy Bush is wonderfully engaging."
-- Morgan Freeman, actor, director, producer

"Captures and inspires the reader."
-- EBONY

"Bears comparison to Roll of Thunder, Hear My Cry, and its sequels."
-- Washington Post