Royal Wedding Disaster: From the Notebooks of a Middle School Princess (CD-Audio)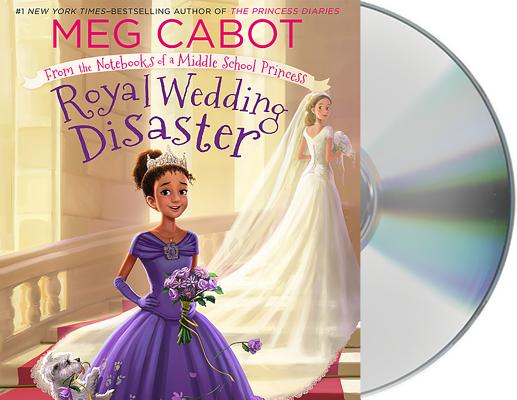 $27.49
Email or call for price.
Staff Reviews
---
This is a spinoff of the popular Princess Diaries series. Olivia has just found out she is a Princess and the half sister of Princess Mia. She is moving from New Jersey to Genovia, starting a new school and taking Princess lessons.
— Anastasia
Description
---
You are invited to a Genovian Royal Wedding in this second audiobook pulled From the Notebooks of a Middle School Princess, a Princess Diaries spin-off series, written and illustrated by New York Times-bestselling author Meg Cabot.

Olivia Grace Clarisse Mignonette Harrison still finds it hard to believe that she's a real live PRINCESS OF GENOVIA. Not only does she get to live in an actual palace with her newly discovered family and two fabulous poodles (who all love her and think that she's anything but ordinary!) but she also gets her very own PONY!

Of course, things aren't going exactly like she imagined. Her half-sister Mia is very busy learning how to take over the country while trying to plan a wedding and her father is actually getting remarried himself-to Mia's mother!-and spends most of his time "renovating" the summer palace, although Grandmere says he is just hiding from the wedding preparations. Olivia hardly gets to see either of them.

Fortunately, Grandmere has her own plans for Mia's wedding, and needs Olivia's help to pull them off. Just when Olivia starts to think that things are going to work out after all, the palace is invaded by a host of new cousins and other royals who all seem to be angry at Olivia (although Grandmere says they are just jealous).

As the day of the wedding gets closer and closer, Olivia becomes more and more worried. For such a carefully planned event, it seems like a LOT of things are going wrong... Can Olivia keep this royal wedding from becoming a royal disaster?
About the Author
---
Meg Cabot
is the #1
New York Times
-bestselling author of the beloved and critically acclaimed Princess Diaries series, which were made into wildly popular Disney movies of the same name. There have been over 25 million copies of Meg's books for both adults and teens/tweens sold in 38 countries. Her last name rhymes with habit, as in "her books can be habit-forming." She currently lives in Key West, Florida, with her husband and various cats.
Kathleen McInerney has narrated numerous audiobooks by bestselling authors such as Emily Giffin, Danielle Steel, Jeffrey Stepakoff, Mary Kay Andrews, and Linda Castillo. Her narration of Just One Day by Gayle Forman won an AudioFile Earphones Award. In reviewing Mary Kay Andrew's Ladies' Night, AudioFile magazine said, "McInerney makes each of the characters distinct and recognizable and gives each the perfect voice, accent, and vocal mannerisms. Most enjoyable and well performed."

She has appeared onstage in New York and around the United States in both classical and contemporary theater. Her credits also include television commercials, daytime drama, radio plays, and animation voice-overs.