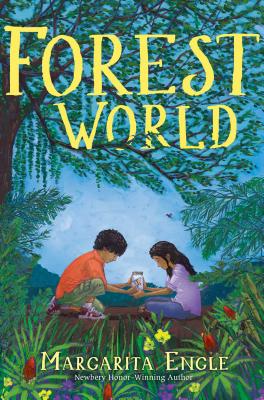 Description
---
From award-winning author Margarita Engle comes a lively middle grade novel in verse that tells the story of a Cuban-American boy who visits his family's village in Cuba for the first time—and meets a sister he didn't know he had.

Edver isn't happy about being shipped off to Cuba to visit the father he barely knows. The island is a place that no one in Miami ever mentions without a sigh, but travel laws have suddenly changed, and now it's a lot easier for divided families to be reunited. Technology in Cuba hasn't caught up with the times, though, and Edver is expecting a long, boring summer.

He was NOT expecting to meet a sister he didn't know he had. Luza is a year older and excited to see her little brother, until she realizes what a spoiled American he is. Looking for something—anything—they might have in common, the siblings sneak onto the Internet, despite it being forbidden in Cuba, and make up a fake butterfly. Maybe now their cryptozoologist mother will come to visit. But their message is intercepted by a dangerous poacher, and suddenly much more than their family is at stake. Edver and Luza have to find a way to overcome their differences to save the Cuban jungle that they both have grown to love.
About the Author
---
Margarita Engle is the Cuban American author of many books including the verse novels Rima's Rebellion; Your Heart, My Sky; With a Star in My Hand; The Surrender Tree, a Newbery Honor winner; and The Lightning Dreamer. Her verse memoirs include Soaring Earth and Enchanted Air, which received the Pura Belpré Award, a Walter Dean Myers Award Honor, and was a finalist for the YALSA Award for Excellence in Nonfiction, among others. Her picture books include Drum Dream Girl; Dancing Hands; and The Flying Girl. Visit her at MargaritaEngle.com.
Praise For…
---
"The poetic journey is one of rich juxtapositions between the real and the marvelous, technology and nature, science and art, past histories and possible futures. An addition that delicately illustrates the Cuban-American experience through a poetic and scientific lens not often seen."
— Kirkus Reviews

* "A beautifully written eco-adventure, this is also a thoughtful exploration of the realities faced by families separated by 90 miles and politics."
— Booklist, Starred Review

* "An evocative verse novel told in alternating voices . . . Filled with butterflies, hummingbirds, forest creatures, and fossils, Engle's affirming story is valuable both for the way the sciences inform it and for its careful attention to the relations between the Cubans who stayed and those who left the island . . . Realistically satisfying."
— Publishers Weekly, Starred Review

"This well-timed and accessible work of eco-fiction should readily find its way into classrooms and libraries as an opening to learning more about the familial ties between the United States and one of its nearest neighbors."
— School Library Journal

"Through alternating chapters, Edver's and Luza's stories are told in Engle's signature verse style. The importance of biodiversity in Cuba, and how Cubans are trying to save their own flora and fauna from tourists, poachers, and climate change, are important themes; as are Cuban families divided by politics."
— The Horn Book

"Engle's accessible text shimmers with affection for rural life in Cuba, its wildlife, and people, and the book offers shrewd observations about the families spread between Cuba and Miami, separated by only a few miles and a huge cultural gulf. . . . The exploration of the reclamations of endangered species and the picture of a very different life in Cuba are intriguing."
— BCCB