Ellie in Concert (Hardcover)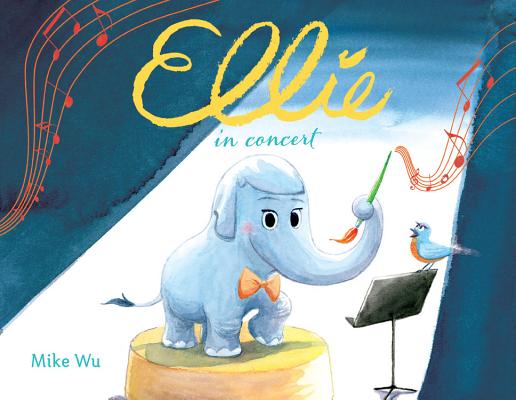 $18.69
Email or call for price.
Description
---
Since Ellie saved her home with her wonderful paintings, the zoo is back in business and the animals are more energetic than ever. All except for Lucy the giraffe, who hasn't been able to sleep with all the noise. Determined to help her friend, Ellie tries to tone down the ruckus and organizes the animals into an orchestra. But is it possible to conduct the cacophony of the zoo into beautiful music?Praise for Ellie"[Wu's] visual storytelling, rendered in sweet, throwback-style watercolors, shows creativity and poise. . . . [E]very vignette is expertly framed for a chuckle, an "Awww," or both." —Publishers Weekly"In his first picture book, Pixar animator Wu creates watercolor illustrations that are reminiscent of classics like Harry the Dirty Dog and Curious George." —Kirkus Reviews"Wu's dynamic watercolor illustrations enliven the story, their retro/classic feel possessing a distinctive animation quality." —School Library Journal
About the Author
---
Mike Wu is the author and illustrator of Ellie, which was selected as NPR's best of 2015. He is also the illustrator of The Oodlethunks series. When he's not making books, he animates at Pixar, where he has worked on The Incredibles, Ratatouille, Up, and Toy Story 3, among other movies.He attended the California Institute of the Arts, and he is the creator of children's clothing and gift line Tiny Teru. Mike lives in the Bay Area with his family. Visit him online at theartofmikewu.com.
Praise For…
---
PRAISE FOR ELLIE

"[Wu's] visual storytelling, rendered in sweet, throwback-style watercolors, shows creativity and poise. . . . [E]very vignette is expertly framed for a chuckle, an "Awww," or both."—<EM>Publishers Weekly</EM>

PRAISE FOR ELLIE

"In his first picture book, Pixar animator Wu creates watercolor illustrations that are reminiscent of classics like Harry the Dirty Dog and Curious George."—<EM>Kirkus Reviews</EM>

PRAISE FOR ELLIE

"Wu's dynamic watercolor illustrations enliven the story, their retro/classic feel possessing a distinctive animation quality."—<EM>School Library Journal</EM>