The Boyfriend Project (Paperback)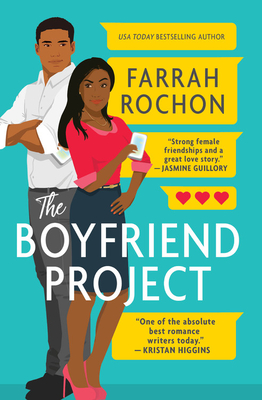 Staff Reviews
---
Samiah is heartbroken after she discovers that her current boyfriend is seeing two other women. After the breakup, Samiah stays in touch with the women and they form a strong friendship. Making a pack with these women, Samiah is determined to focus on work. In walks her new coworker Daniel. Daniel is new to the area and a bit mysterious, but as they work together Samiah finds that they have a lot in common. This was a fun read. I particularly liked the friendship that the three women foster throughout the novel.
— Anastasia
Description
---
A witty rom-com that explores the "unique joys of strong female friendships and the particular struggles of Black women in the workplace, all within a great love story." --Jasmine Guillory, bestselling author of Party of Two
Samiah Brooks never thought she would be "that" girl. But a live tweet of a horrific date just revealed the painful truth: she's been catfished by a three-timing jerk of a boyfriend. Suddenly Samiah-along with his two other "girlfriends," London and Taylor-have gone viral online. Now the three new besties are making a pact to spend the next six months investing in themselves. No men and no dating.
For once Samiah is putting herself first, and that includes finally developing the app she's always dreamed of creating. Which is the exact moment she meets the deliciously sexy Daniel Collins at work. What are the chances? But is Daniel really boyfriend material or is he maybe just a little too good to be true?
"A smart, funny digital-age romance about real women living in the real world. Couldn't put it down!" --Abby Jimenez, USA Today bestselling author of The Happy Ever After Playlist
*O, The Oprah Magazine: Must-Read Black Romance Novels
*Cosmopolitan: Best Summer Reads 2020
*Book of the Month selection
*LibraryReads selection
*Buzzfeed: Romances to Read This Summer
*PopSugar: Best New Books
*Bookpage: Most Anticipated Romance of 2020
*SheReads: Most Anticipated Reads of Summer 2020
About the Author
---
USA Today bestselling author Farrah Rochon hails from a small town just west of New Orleans. She has garnered much acclaim for her Holmes Brothers, New York Sabers, Bayou Dreams and Moments in Maplesville series. When she is not writing in her favorite coffee shop, Farrah spends most of her time reading, cooking, traveling the world, visiting Walt Disney World, and catching her favorite Broadway shows. An admitted sports fanatic, Farrah feeds her addiction to football by watching New Orleans Saints games on Sunday afternoons.
Praise For…
---
"A prime example of how complex and insightful romances can be. Farrah Rochon deftly explores what it means to go viral, the unique joys of strong female friendships, and the particular struggles of Black women in the workplace, all within a great love story."—Jasmine Guillory, New York Times bestselling author of The Wedding Date

"The Boyfriend Project is rom-com joy... Rochon's warmth and easy humor sing off the pages, but the book also has plenty to say: about female friendships, about showing up for each other, about trust, and about racism. ...Rochon is incisively funny, gifted at winging between laugh-out-loud scenarios, crackling banter, and pointed social commentary. The Boyfriend Project is vibrantly realized, a modern-day tale with real-world stakes that will leave you giggling and swooning from cover to cover. Grade: A"—Entertainment Weekly

"A masterpiece of modern-day Jane Austen with effortless, razor-sharp social commentary, romance and humor. Farrah Rochon is one of the absolute best romance writers today. Period."—Kristan Higgins, New York Times bestselling author

"A
smart, funny digital-age romance about real women living in the real world.
Couldn't put it down!"—Abby Jimenez, USA Today bestselling author of The Happy Ever After Playlist

"Farrah Rochon writes intensely real characters with flaws and gifts in equal measure. The Boyfriend Project is a multilayered story about friendship, love, and following your dreams -- all of it told with heart and emotion."—Nalini Singh, New York Times bestselling author

"Rochon's books are always witty, hot, and engaging."—BuzzFeed

"A smart, sexy and completely modern romance. The
Boyfriend Project is the free-spirited, tell-it-like-it-is page-turner you've
been looking for!"—Kwana Jackson, USA Today bestselling author of Real Men Knit

"I loved this book! The Boyfriend Project is a modern, cute, clever rom-com, and I can't wait for the next book. This is a girl gang I want to join."—Alisha Rai, author of The Right Swipe

"The Boyfriend Project is a wonderful mix of what I love in romance: romantic tenderness, great chemistry, bright individuals, expertise in their jobs, deep friendships with secondary characters, and excellent conflict between them leading to great trust-building."—Frolic

"Funny, fresh, sexy, and heartfelt. This is my new favorite romance series!"—Suzanne Brockmann, New York Times bestselling author

"Farrah Rochon writes delectable love stories with characters so warm that I want to hang out with them in real life. Samiah's hopes and dreams and fears are relatable and real, and I don't blame her at all for bending the rules of her no-dating pact with the extremely tasty Daniel. I smiled the whole time I was reading The Boyfriend Project."—Andie J. Christopher, author of Not the Girl You Marry

"The Boyfriend Project has it all-swoon-worthy romance, the power of true friendship, and a grand gesture that makes your heart sigh with pure satisfaction. Absolutely a must-read summer romance!"—Priscilla Oliveras, USA Today bestselling author

"Rochon is a romance master who adeptly writes interesting and dynamic characters. ...A richly layered conflict adds depth and complexity to this charming workplace romance."—Kirkus

"Rochon's latest is ideal for anyone wanting positive representations of strong women in STEM fields, especially with its exploration of the specific challenges faced by black women. It will also please fans of office romances and Christina Lauren's Dating You/Hating You."—Library Journal

"Rochon
woos readers with ample wit and charm in this low-drama workplace romance."—Publishers Weekly

"There's so much to love in this -- smart, highly competent and sexy romantic leads, strong female friendships and a dose of intrigue -- and it kicks off what promises to be an excellent series."—NPR

"Rochon's new multicultural contemporary romance series deploys the delicious tensions generated by an office romance, corporate intrigue, and female empowerment."—Booklist

"A clever, pleasurable read."—BookPage

"Think John Tucker Must Die, but with an uplifting, female-empowerment twist."—Betches