How to Sell Your Family to the Aliens (Paperback)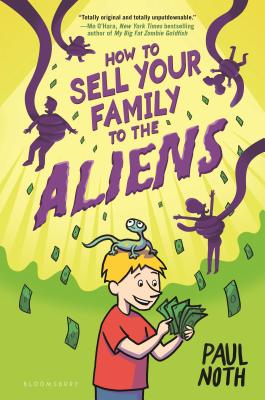 Description
---
This is an out-of-this-world funny first book in a madcap, illustrated adventure series from New Yorker cartoonist Paul Noth.
Happy Conklin Jr. is the only 10-year-old who has to shave three times a day. Hap's dad is a brilliant inventor of screwball products, and being a Conklin kid means sometimes being experimented on. So Hap has his beard, and his five sisters each have their own unique--and often problematic--qualities too. And although Hap's dad has made a fortune with his wacky inventions sold via nonstop TV infomercials, all of that money has gone to Hap's tyrannical Grandma. While she lives in an enormous mansion, the rest of the family lives in two rooms in the basement.
All Hap has ever wanted is to have a normal life, so when he sees a chance to get rid of Grandma, he takes it! He only means to swap out Grandma, but when he--oops!--sells his whole family to the aliens, he wants nothing more than to get them back. He just has to figure out . . . how?
About the Author
---
Paul Noth's cartoons have appeared regularly in The New Yorker since 2004. He has created short animated films for Late Night with Conan O'Brien, and been an animation consultant for Saturday Night Live.
www.paulnoth.com; @PaulNoth
Praise For…
---
"Engaging, original and laugh-out-loud funny . . . I'm so thrilled for everyone, particularly my 500 children, to experience the imagination and brilliance of this world Paul Noth has created. I just hope that I don't get sold to the Aliens myself . . ." —Jim Gaffigan, comedian and bestselling author of DAD IS FAT and FOOD: A LOVE STORY
"Funny, fizzing and forever keeping you on your toes, How to Sell Your Family to the Aliens is a rollercoaster of clever cartoon and pacy plot twists, with some aliens and wrestling thrown in for good measure. Totally original and totally unputdownable." —Mo O'Hara, New York Times bestselling author of the My Big Fat Zombie Goldfish series
"How to Sell Your Family to the Aliens is hilarious and extremely helpful." —Andy Borowitz, creator of the Borowitz Report
"My favorite New Yorker cartoonist just became my favorite middle reader author--and that was after reading only three pages of his hilarious new book!" —Bob Staake, award-winning author of more than 60 children's books, including The Donut Chef, The Red Lemon, and The Book of Gold
"Strange and original with just the right amount of juvenile humor, this story features odd and endearing characters and a wonderfully weird plot." —School Library Journal
"Happy's narration is pitch perfect for middle- graders . . . Fans of Allen's Gabby Duran and the Unsittables will find a similar combination of warmth and weirdness here." —BCCB
"Readers will be likewise amused by the random twists, silly inventions, and frequent spot drawings and sequential panels." —Booklist