Follow Chester!: A College Football Team Fights Racism and Makes History (Hardcover)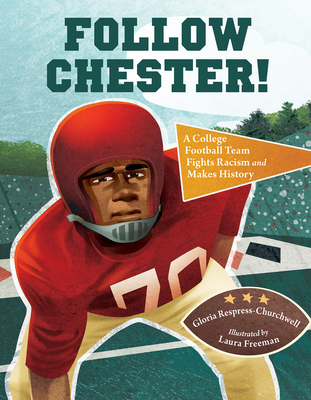 $16.99

Usually Ships in 1-5 Days
Description
---
A little-known civil rights hero and college football MVP finally gets a voice in this fictional account detailing Chester Pierce's game-changing role as the first Black college football player to compete south of the Mason-Dixon Line.

In 1947, no African American player can play at a southern school; in return, the opposing team benches a player of "equal talent." This historical fiction picture book frames a turbulent time in the civil rights era with the clever use of a football play to show race relations and teamwork. Inspired by a true story, capturing a historic defense against the Jim Crow laws of the South.
About the Author
---
Gloria Respress-Churchwell has an MFA in writing for children from Simmons College and has produced and directed documentaries at the Nashville Film Festival including award-winner The Life of Robert Churchwell: The Jackie Robinson of Journalism and From Sag to Swag: The Power of Dress. She is a co-contributor of the Robert Churchwell Journalism Collection to the Smithsonian National Museum of African American History and Culture.

Laura Freeman has illustrated more than twenty children's books, including Hidden Figures: The True Story of Four Black Women and the Space Race by Margot Lee Shetterly, the Nikki & Deja series by Karen English, and Fancy Party Gowns:The Story of Fashion Designer Ann Cole Lowe by Deborah Blumenthal. Her art can be found on a wide range of products, from dishes to textiles to greeting cards. Laura is originally from New York City and now lives in Atlanta with her husband and two children.
Praise For…
---
It takes tremendous courage to make history. At 8, Chester Pierce saved his younger brother when he fell in a well, becoming a hero in his small New York town. He grew up loving football, basketball, and music. He learned to play multiple instruments and even became the first black senior-class president of his high school. Despite his principal's doubts, Chester applied to Harvard and was accepted, growing his confidence. While there, Chester played varsity football. In 1947, his team was scheduled to play the University of Virginia in Charlottesville, where Jim Crow forbade Chester to play. But the coach knew a change was coming, so he told Chester to "get ready." Chester knew "that being the first black person to do something was never easy" but that the challenge would be worth it. Despite on-campus racism, Chester's teammates believed Jim Crow laws were wrong. They devised an off-the-field play they called "Follow Chester!" and determined that they would stick with him as a team, bolstering his confidence. Chester and his team faced a record-breaking crowd and played as hard as they could. Telling the tale simply, Respress-Churchwell does not shy away from direct statements about Chester's emotions and challenges. In Freeman's illustrations, Chester's facial expressions are pensive early in the story, but as he gains confidence, they become more determined.This straightforward sports tale will encourage readers to face adversity head-on.
—Kirkus Reviews

Chester Pierce developed confidence during his life as he confronted various challenges. A later challenge was resisting discriminatory practices that prevented black players from playing college football in the South. In this partly fictionalized account, readers learn that Chester played for the Harvard University varsity football team. In 1947, the team was scheduled to play against the University of Virginia (UVA). Although the UVA coach expected that Chester would be left behind, the Harvard coach believed Chester deserved to play. Harvard players also supported their teammate, using a play that they called "Follow Chester." This entailed following Chester's actions and behavior when faced with the Jim Crow laws of the South. For instance, when Chester encountered a bathroom for "whites only," the entire team refused to use it, opting instead for the woods. When a restaurant barred black people from using the front entrance, the whole team entered from the back. Although Harvard did not win the game, Chester succeeded in refusing to accept racist policies and was cheered on by his fans. An author's note clearly identifies the fictionalized parts of the story, discusses the author's extensive research which included an interview with Dr. Pierce, and includes a photograph of the Harvard Crimson football team of 1947. VERDICT This is a well-told, well-researched story, but readers need to be aware of the fictionalized parts. The book not only shows the challenges Chester Pierce faced, it shows how people can work together to combat discrimination.
—School Library Journal


Chester Pierce, who grew up in a small New York town and became his high school's first Black senior-class president, later played football on Harvard's varsity team. In 1947, they boarded a bus for a game at the University of Virginia, a state where Jim Crow laws were in force. To resist discrimination, they agreed on a strategy they called "Follow Chester." When Chester was allowed to enter a restaurant only through the back door, they all trooped in after him. Chester and his teammates made history by taking a stand together. Where he was denied a hotel room, they all refused to stay. First introducing Chester as a boy, this picture book will easily draw primary-grade children into this story of courage, teamwork, and resisting injustice. The text reads aloud smoothly, and the beautifully composed, richly colored digital illustrations show up well from a distance. While the football angle will appeal to sports fans, this handsome picture book primarily offers young children an accessible introduction to the struggle for civil rights in mid-twentieth-century America.

—Booklist


During the Jim Crow–era South, Black football players weren't allowed to compete below the Mason-Dixon Line. In 1947, Chester Pierce made history when he stepped on the field at the University of Virginia to play for Harvard. This book doesn't make light of the systemic obstacles Pierce faced over his life — what it does do, however, is commemorate a trailblazing young man who went on to become an innovator and educator.
—Brightly