They Called Us Enemy: Expanded Edition (Hardcover)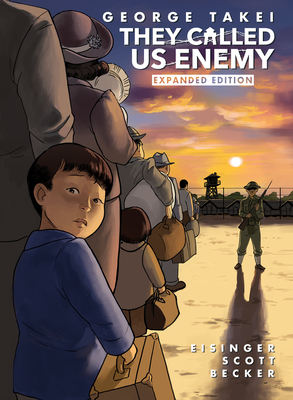 $29.99
Usually Ships in 1-5 Days
Description
---
The New York Times bestselling graphic memoir from actor/author/activist George Takei returns in a deluxe hardcover edition with bonus material! Experience the forces that shaped an American icon -- and America itself -- in this gripping tale of courage, country, loyalty, and love.

Now with sixteen pages of bonus content from George Takei and his co-creators: a new afterword plus a behind-the-scenes tour of the process of researching, writing, drawing, and promoting They Called Us Enemy, featuring historical documents, scripts, sketches, photos, and more!

George Takei has captured hearts and minds worldwide with his magnetic performances, sharp wit, and outspoken commitment to equal rights. But long before he braved new frontiers in Star Trek, he woke up as a four-year-old boy to find his own birth country at war with his father's -- and their entire family forced from their home into an uncertain future.

In 1942, at the order of President Franklin D. Roosevelt, every person of Japanese descent on the west coast was rounded up and shipped to one of ten "relocation centers," hundreds or thousands of miles from home, where they would be held for years under armed guard.

They Called Us Enemy is Takei's firsthand account of those years behind barbed wire, the terrors and small joys of childhood in the shadow of legalized racism, his mother's hard choices, his father's tested faith in democracy, and the way those experiences planted the seeds for his astonishing future.

What does it mean to be American? Who gets to decide? When the world is against you, what can one person do? To answer these questions, George Takei joins cowriters Justin Eisinger & Steven Scott and artist Harmony Becker for the journey of a lifetime.
About the Author
---
George Takei is known around the world for his founding role as Hikaru Sulu, helmsman of the Starship Enterprise, in the acclaimed television series Star Trek. But Takei's story goes where few stories have gone before. From a childhood spent with his family wrongfully imprisoned in Japanese American internment camps during World War II, to becoming one of the country's leading figures in the fight for social justice, LGBTQ rights, and marriage equality, Mashable named Takei the #1 most-influential person on Facebook, with 10.4 million likes and 2.8 million followers on Twitter.

Justin Eisinger is Editorial Director, Graphic Novels & Collections for IDW Publishing, where he has spent more than twelve years immersed in graphic storytelling. Following a fateful encounter with March author and Civil Rights pioneer Congressman John Lewis, Eisinger turned his experience adapting television episodes and film towards bringing engaging non-fiction stories to readers.

Steven Scott has worked regularly in comics since publishing his debut book in 2010, most notably as a publicist. His writing has appeared in publications by Archie Comics, Arcana Studios, and Heavy Metal magazine. As a blogger/columnist he has written for the pop culture sites Forces of Geek, Great Scott Comics, and PopMatters.

Harmony Becker is an artist and illustrator. She is the creator of the comics Himawari Share, Love Potion, and Anemone and Catharus. She is a member of a multicultural family and has spent time living in South Korea and Japan. Her work often deals with the theme of the language barrier and how it shapes people and their relationships.
Praise For…
---
Winner of the 2020 Asian/Pacific American Award for Young Adult Literature!

Winner of the 2020 Eisner Award for Best Reality-Based Work!

"They Called Us Enemy is truly beautiful — moving, thoughtful, important, engaging, and stunningly rendered. I am so excited to see this book's impact on the world." — Jacqueline Woodson, National Ambassador for Young People's Literature and National Book Award-winning author of Brown Girl Dreaming 
  
"George Takei's story reveals the important lessons of the WWII Japanese American Incarceration that still need to be learned today. They Called Us Enemy is a compelling must-read for all ages." — Karen Korematsu, Founder and Executive Director, Fred T. Korematsu Institute 
  
"Riveting... Takei has evolved into an increasingly powerful voice for oppressed communities, and Enemy finds him at peak moral clarity — an unflinching force in these divisive times." — The Washington Post

"A detailed, wrenching account... They Called Us Enemy should prove the most potent introduction for younger readers to this ignoble chapter in our history." — The New York Times

"Powerful, moving and relevant." — Los Angeles Times

"Moving and layered... Giving a personal view into difficult history, [They Called Us Enemy] is a testament to hope and tenacity in the face of adversity." — Publishers Weekly (starred review)
 
"A compelling blend of nostalgia and outrage... this approachable, well-wrought graphic memoir is important reading, particularly in today's political climate." — Booklist (starred review)
 
"This evocative memoir shares stories of the nation's past, draws heartbreaking parallels to the present, and serves as a cautionary tale for the future."— School Library Journal (starred review)
 
"Emotionally staggering... They Called Us Enemy also inspires readers to engage through democracy to insist that we treat fellow human beings with fairness and dignity." — Amazon's "Best Books of the Month"

"A cogent reminder that liberty and justice is not always for all, They Called Us Enemy explores a dark episode of America's past as it dives into the heart of a pop culture icon." — Foreword Reviews' "Indie Books That'll Blow You Away"
 
"The creators are gifted storytellers, and Takei has a great story to tell, full of unexpected twists. And as compelling as it is, it is also inspirational, a story of ordinary people and the choices they faced in an extraordinary time." — ICv2

"A tale of triumph over adversity." — BBC America