Death on the Aisle: A Mr. & Mrs. North Mystery (Paperback)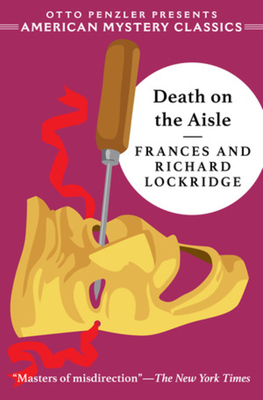 Description
---
They say Broadway is a graveyard of hopes and dreams, but someone's adding corpses to its tombs…
Mr. and Mrs. North live as quiet a life as a couple can amidst the bustle of New York City. For Jerry, a publisher, and Pamela, a homemaker, the only threat to their domestic equilibrium comes in the form of Mrs. North's relentless efforts as an amateur sleuth, which repeatedly find the duo investigating murders and sundry other crimes. So when the wealthy backer of a play is found dead in the seats of the West 45th Street Theatre, the Norths aren't far behind, led by Pam's customary flair for murders that turn eccentric and, yes, humorous. Alongside Lieutenant William Weigand of the New York Police Department, they'll employ illogical logic and bizarrely tangential suggestions to draw the curtains on a killer.
A light mystery set in a classic Broadway locale, Death on the Aisle is lent verisimilitude by author Richard Lockridge's career as a theater critic. Though it is the fourth novel in the saga of this charming, witty couple, the series can be enjoyed in any order, with each installment depicting its own self-contained story.
About the Author
---
Frances and Richard Lockridge were two of the most popular names in mystery during the forties and fifties. Inspired by Richard's series of non-mystery stories for The New Yorker about a publisher and his wife, Mr. and Mrs. North, the Lockridge husband-and-wife duo collaborated successfully to write twenty-six mystery novels about the couple, which, in turn, became the subject of a Broadway play, a movie (starring Gracie Allen), and series for both radio and television. After Frances's death in 1963, Richard discontinued the Mr. and Mrs. North series but continued to write until his own death in 1982.

Otto Penzler, the creator of American Mystery Classics, is also the founder of the Mysterious Press (1975); Mysterious Press.com (2011), an electronic-book publishing company; and New York City's Mysterious Bookshop (1979). He has won a Raven, the Ellery Queen Award, two Edgars (for the Encyclopedia of Mystery and Detection, 1977, and The Lineup, 2010), and lifetime achievement awards from Noircon and The Strand Magazine. He has edited more than 70 anthologies and written extensively about mystery fiction.
Praise For…
---
Delicious . . . an enormously engaging old-school mystery
— Booklist (Starred review)

The biggest selling points are the story's rapid pace . . . and the unguessable but eminently logical motive, by far the most striking piece of this retro puzzle.
— Kirkus

Masters of misdirection.
— The New York Times

Among the smoothest of the old professionals.
— Anthony Boucher - Ellery Queen's Mystery Magazine