Waltz into Darkness (Paperback)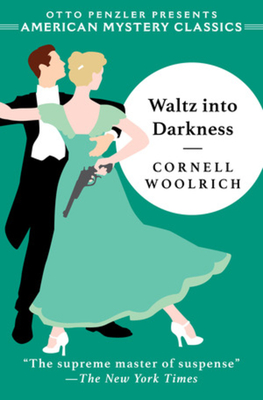 Description
---
From "the supreme master of suspense" comes the chilling chronicle of one man's descent into madness. (New York Times)
When New Orleans coffee merchant Louis Durand first meets his bride-to-be after a months-long courtship by mail, he's shocked that she doesn't match the photographs sent with her correspondence. But Durand has told his own fibs, concealing from her the details of his wealth, and so he mostly feels fortunate to find her so much more beautiful than expected. Soon after they marry, however, he becomes increasingly convinced that the woman in his life is not the same woman with whom he exchanged letters, a fact that becomes unavoidable when she suddenly disappears with his fortune.
Alone, desperate, and inexplicably love-sick, Louis quickly descends into madness, obsessed with finding Julia and bringing her to justice — and simply with seeing her again. He engages the services of a private detective to do so, embarking on a search that spans the southeast of the country. When he finally tracks her down, the nightmare truly begins…
A dark tale of the destructive power of love, Waltz into Darkness is a classic "femme fatale" narrative that shows "the father of the modern suspense story" (LA Times) at the top of his unsettling craft. It has been adapted for film twice, most notably serving as the basis for Francois Truffaut's Mississippi Mermaid.
About the Author
---
Born George Hopley-Woolrich, Cornell Woolrich (1903–1968) is the pen name most often employed by one of America's best crime and noir writers, whose other pseudonyms included George Hopley and William Irish, the moniker under which Waltz into Darkness was first published. His novels were among the first to employ the atmosphere, outlook, and impending sense of doom that came to be characterized as noir, and inspired some of the most famous films of the period, including Alfred Hitchcock's Rear Window, Francois Truffaut's The Bride Wore Black, The Phantom Lady, and celebrated B-movies such as The Leopard Man and Black Angel.

Wallace Stroby is an award-winning journalist and the author of eight novels, including Some Die Nameless, published in 2018, and four titles featuring professional thief Crissa Stone. A native of Long Branch, N.J., he's a lifelong resident of the Jersey Shore.
Praise For…
---
A richly embroidered tapestry . . . this is classic noir well worthy of a revival
— Booklist

Unrelentingly grim . . . This haunting downer is an excellent addition to the American Mystery Classics series
— Publishers Weekly (Starred Review)

Of all the authors whose forte was turning our spines to columns of ice, the supreme master of the art, the Hitchcock of the written word, was Cornell Woolrich.
— Believer Magazine

The writing of Cornell Woolrich goes through you like a shriek in the night.
— Dorothy Salisbury Davis, MWA Grandmaster

One of the great masters.
— Ellery Queen