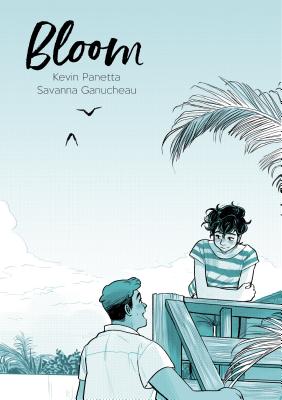 Staff Reviews
---
A coming-of-age graphic novel set in a small town family owned bakery. Hector loves baking and Ari wants to get out of town as soon as possible. A summer romance makes this couple question their life plans and learning to adapt to the changes life throws at you.
— Anastasia
Description
---
Now that high school is over, Ari is dying to move to the big city with his ultra-hip bandif he can just persuade his dad to let him quit his job at their struggling family bakery. Though he loved working there as a kid, Ari cannot fathom a life wasting away over rising dough and hot ovens. But while interviewing candidates for his replacement, Ari meets Hector, an easygoing guy who loves baking as much as Ari wants to escape it. As they become closer over batches of bread, love is ready to bloom . . . that is, if Ari doesnt ruin everything.

Writer Kevin Panetta and artist Savanna Ganucheau concoct a delicious recipe of intricately illustrated baking scenes and blushing young love, in which the choices we make can have terrible consequences, but the people who love us can help us grow.
About the Author
---
Kevin Panetta is a comic book writer. He has worked on books for properties like Steven Universe, Regular Show, Bravest Warriors, and WWE. His creator-owned series, Zodiac Starforce, is now on its second volume and his first graphic novel, Bloom, is published by First Second (2019). Kevin came to writing after years dedicated to comics as a reader, shop employee, and convention organizer. He lives in Washington, DC with his cool wife and two cool dogs.

Savanna Ganucheau is a comic artist from New Orleans, Louisiana with a BFA in Film from The University of New Orleans. She made her start in comics by self-publishing and selling her work in small comic book shops around New Orleans. Alongside creating the popular webcomic George and Johnny, Savannas artwork has appeared in notable publications including Jem and the Holograms, Adventure Time Comics, and Lumberjanes. Her first graphic novel Bloom is published by First Second.
Praise For…
---
"This is the best kind of romantic tale: innocent and unfussy, yet overwhelming. Author Panettas story is baked to perfection: a crush that turns to infatuationand later lovein the confines of a professional kitchen bristling with hot stoves, stuffed shelves, and perfectly shaped spanakopita." Los Angeles Review of Books

"Panetta and Ganucheau's graphic novel debut is as much a love story between people as it is with the act of baking. Ganucheau's art, in black ink with varying shades of blue, mixes traditional paneling with beautiful double-page spreads of detailed baking scenes, where the panels sometimes take on the shape of braided loaves...A tender blend of sugary, buttery, and other complex flavors that's baked with a tremendous dash of heart."Kirkus, starred review

"Beautiful artwork depicts characters coping with lifes increasing responsibilities and is especially sumptuous when focusing on the yummy desserts. This is both a delicious foray into the world of baking and young love and an endearing, realistic tale of two teens helping one another grow. A fresh take on the coming-of-age story that spotlights the triumphs and travails of young people."School Library Journal, starred review

"Bloom is a charming and compelling look at the first summer after high school, with the angst of choice and decision looming and the blush of first love. (Plus: there's baked goods!)"Melissa Fox, Watermark Books, Wichita KS

"Illustrator Ganucheaus black, white, and blue art is drawn in a simple, naturalistic style with manga-adjacent expressions that suit the story...a pleasantly diverse cast and realistically varied relationship dynamics from Panetta (Zodiac Starforce) offer a thoughtful look at how one grows into and out of relationships, with all the commensurate joy, awkwardness, and reconciliation that family and friends offer." Publishers Weekly

"A quiet, earnest romance with warmth and depth." Booklist