Warrior Queens: True Stories of Six Ancient Rebels Who Slayed History (Hardcover)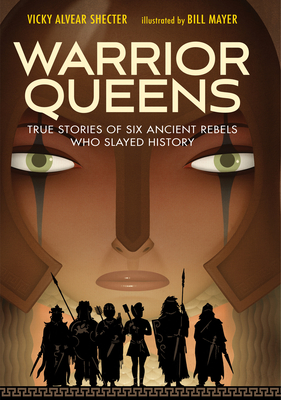 Description
---
The true life stories of six little-known fierce ancient warrior queens are told with humor and vivid detail by an award-winning writer.

For young readers seeking to be inspired by stories of strong women, this riveting book shines a light on six powerful ancient queens. Highlighting women warriors who ruled in ancient eras, like Hatshepsut in 1492 BCE Egypt, and Zenobia in 260 CE Palmyra, the stories span the globe to reveal the hidden histories of queens who challenged men and fought for the right to rule their queendoms. Award-winning author Vicky Alvear Shectar's lively text and acclaimed illustrator Bill Mayer's witty illustrations showcase these stories filled with history, power, and humor.
About the Author
---
Vicky Alvear Shecter is the author of multiple books about mythology and the ancient world for children and young adults, including the Secrets of the Ancient Gods series (Anubis Speaks!, Hades Speaks!, and Thor Speaks!) as well as the biography Cleopatra Rules! She lives in Atlanta and is a docent at the Michael C. Carlos Museum of Antiquities at Emory University in Atlanta, Georgia.

Bill Mayer studied art at Ringling College of Art, and has won hundreds of national and international awards from Society of Illustrators, Communication Arts, 3x3, American Illustration, Graphis and many other organizations. Bill recently finished a large collection of paintings for an illustrated edition of George Orwell's Animal Farm, which won a gold medal in Society of Illustrators 56 West. He lives in Decatur, Georgia. Visit thebillmayer.com.
Praise For…
---
"This book tells the true stories of six queens whose lives are seldom shared in our history classes. It is interesting to compare the stories of women with strong voices from history just as women today are developing strong voices of their own. The text shares the histories of women who exhibit perseverance and strength in times when women were not readily given such strong roles of leadership. As we learn about these women, we are awed by their ingenuity, strength, and determination. These events are well researched and documented, offering students a path to read more about these historical figures if their interest is piqued. The illustrations add to the historical knowledge as well as enhance the reader's interest." -- School Library Connection