Samurai Jack: Tales of the Wandering Warrior (Paperback)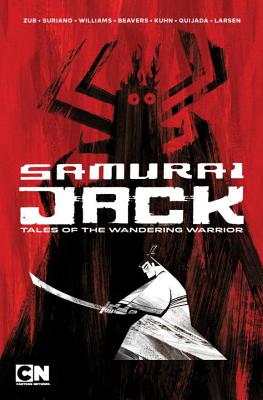 $49.99
Email or call for price.
Description
---
The legendary samurai known only as "Jack" is stranded in a strange future ruled by the demonic wizard, Aku. His quest to return to the past has tested him many times, but now the stakes are higher than ever. All 20 issues of the Samurai Jack comic book series written by Jim Zub with art by Andy Suriano, Brittany Williams, Ethen Beavers, Andy Kuhn, Sergio Quijada, and Christine Larsen are collected in this massive compendium.
About the Author
---
Jim Zub is a writer, artist and art instructor based in Toronto, Canada. Over the past fifteen years he's worked for a diverse array of publishing, movie and video game clients including Marvel, DC Comics, Capcom, Hasbro, Cartoon Network, and Bandai-Namco. He juggles his time between being a freelance comic writer and Program Coordinator for Seneca College's award-winning Animation program. His current comic projects include Dungeons & Dragons, a new series celebrating 40 years of the classic tabletop RPG, Thunderbolts, the return of Marvel's villainous superhero team, and Wayward, a modern supernatural story about teens fighting Japanese mythological monsters.

Originally docked in Detroit, Michigan, Andy Suriano hooked up with a circus-type, comedy/magic show when he was 18. He traveled the world performing for the next 7 years, sometimes on crazy European TV Variety shows, other times in historic Vaudevillian theatres, occasionally in front of ten thousand people, royal families, that sort of thing. The group even did a couple Fox specials here in the states way back in '95 called The Rudy Coby Show. Andy's specialty: walking on his hands as a two foot tall Elvis.

An accomplished graphic artist and illustrator, Andy's worked both in comics and animation—winning an Annie Award for his work on Samurai Jack. He has also designed on other Emmy Award winning shows like Fairly Oddparents, Star Wars: Clone Wars and a bunch of others. He has also had a few pilots in production at Cartoon Network, Warner Bros., BET and Disney respectively.
Praise For…
---
"A new beginning for a character with a considerable history... an excellent jumping on point for new and old fans alike." –Newsarama

"Hits all the right notes." –IGN

"Just familiar enough to satiate old fans and just new enough to set itself apart from its wonderful subject material." –Comic Bastards 

"Firing on all cylinders and presenting a story that is worthy of what came before it." –Comic Book Therapy