Bleeding Skull!: A 1990s Trash-Horror Odyssey (Paperback)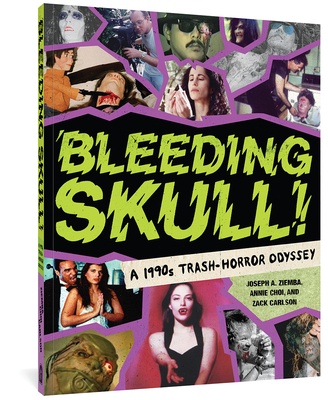 Description
---
Shapeshifting Hare Krishna demons who crash a BBQ, Mexican Freddy Kruegers, and two dinosaurs that dump body parts into a tiny swimming pool — brought to you by the maniacs behind Bleeding Skull!: A 1980s Trash-Horror Odyssey and Destroy All Movies!!! The Complete Guide to Punks on Film!
A celebration of the most obscure, bizarre, and brain-busting movies ever made, this film guide features 250 in-depth reviews that have escaped the radar of people with taste and the tolerance of critics -- 
Gorgasm! I Was a Teenage Serial Killer! Satan Claus! Die Hard Dracula!
Curated by the enthusiastic minds behind BleedingSkull.com, this book gets deep into gutter-level, no-budget horror, from shot-on-VHS revelations (
Eyes of the Werewolf
) to forgotten outsider art hallucinations (
Alien Beasts
). Jam-packed with rare photographs, advertisements, and VHS sleeves (most of which have never been seen before),
Bleeding Skull
is an edifying, laugh-out-loud guide to the dusty inventory of the greatest video store that never existed.
About the Author
---
Annie Choi is the author of Shut Up, You're Welcome and Happy Birthday or Whatever. She is a contributing writer and editor of Bleeding Skull, and has been a featured storyteller on The Moth. She lives in New York City.

Zack Carlson is the co-author of Destroy All Movies!!!: The Complete Guide to Punks on Film and a writer on multiple series for the Adult Swim network. He was producer/host of the Vice series Outsider and is one of the schmoes behind Fantastic Fest, the nation's largest genre film festival. He lives in Austin, Texas.

Joseph A. Ziemba is the founder of Bleedingskull.com and the director of the American Genre Film Archive (AGFA) and genre programming at the Alamo Drafthouse Cinema in Austin, Texas.
Praise For…
---
A degenerate Halloween party.
— New York Times

Like a fever dream glimpse into parallel worlds.
— Vice

The go-to encyclopedia for trash, bizarre, and shot-on-video horror cinema.
— Fangoria

The book isn't just a damn-near comprehensive catalog of 'trash-horror' of the decade, but it's also a love letter to the fans who make horror the best genre in film today.
— Bloody Disgusting

The long-awaited, much-anticipated sequel to Bleeding Skull! A 1980s Trash-Horror Odyssey, this sophomore (and proudly sophomoric) follow-up gives ink to the absolute oddest of no-budget obscurities video stores had to offer. With jackers, crystal forces, death metal zombies, psycho sisters, killer clowns, killer nerds and mad scientists named Dr. Kill, the contents are every bit worth the brand's fractured exclamation point.

— Bookgasm