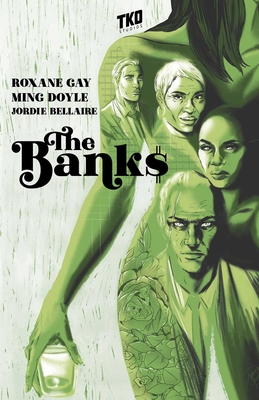 Description
---
A high-stakes heist thriller about the most daring and successful thieves in Chicago: three generations of women from the Banks family.

For fifty years the women of the Banks family have been the most successful thieves in Chicago by following one simple rule: never get greedy. But when the youngest Banks stumbles upon the heist of a lifetime, the potential windfall may be enough to bring three generations of thieves together for one incredible score and the chance to avenge a loved one taken too soon.

From NY Times bestselling writer Roxane Gay (Hunger; Black Panther) and artist Ming Doyle (The Kitchen).

"The Banks is the best kind of heist story: a sharp, tight robbery with escalating tensions and threats coming from every direction." - The A.V. Club

"It will leave most readers smiling at the end of their journeys with the Banks family." - The Beat

About the Author
---
Roxane Gay's writing appears in BEST AMERICAN MYSTERY STORIES 2014, BEST AMERICAN SHORT STORIES 2012, BEST SEX WRITING 2012, A PUBLIC SPACE, MCSWEENEY'S, TIN HOUSE, OXFORD AMERICAN, AMERICAN SHORT FICTION, VIRGINIA QUARTERLY REVIEW, and many others. She is a contributing opinion writer for The New York Times. She is the author of the books AYITI, AN UNTAMED STATE, The New York Times bestselling BAD FEMINIST, the nationally bestselling WOMEN and The New York Times bestselling HUNGER.

Ming Doyle was born in Boston to an Irish-American sailor and a Chinese Canadian librarian. In 2007 she earned her BFA from Cornell University with a dual concentration in Painting and Drawing. She has been working as a freelance illustrator and comic book artist ever since. She is known for her work on THE KITCHEN (now a feature film starring Melissa McCarthy, Tiffany Haddish, and Elizabeth Moss), MARA, CONSTANTINE: HELLBLAZER, ANATOMY OF A METAHUMAN, and GIRL OVER PARIS.

Ariana Maher is a comic book letterer who works with both independent imprints such as LittleFoolery and publishers such as Image Comics, Dynamite Entertainment, and Skybound. Recent projects include Nancy Drew, James Bond 007, Ringside, Sfeer Theory, Flavor, and Outpost Zero. She tends to be found wandering around comic book conventions in the Pacific Northwest. Check out her portfolio at arianamaher.com

Jordie Bellaire is an American comic book colorist who currently lives in Ireland and works for DC, Marvel, Valiant, and Image comic book publishers. She has colored Pretty Deadly, The Manhattan Projects, Moon Knight, The Vision, Magneto, Nowhere Men, Hawkeye, Batman, among other titles.
Praise For…
---
"The Banks is the best kind of heist story: a sharp, tight robbery with escalating tensions and threats coming from every direction."
— AV Club

"It will leave most readers smiling at the end of their journeys with the Banks family."
— The Beat