Sophie Washington: Code One (Hardcover)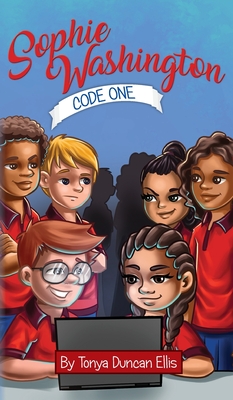 $16.99

Usually Ships in 1-5 Days
Description
---
AN AMAZON BESTSELLING BOOK FOR KIDS GIRL POWER Xavier Academy is having a computer coding competition with a huge cash prize Sixth grader Sophie Washington and her friend Chloe can't wait to enter with their other classmates, Nathan and Toby. The only problem is that the boys don't think the girls are smart enough for their team and have already asked two other kids to work with them. Determined to beat the boys, Sophie and Chloe join forces with classmates Mariama, Valentina, and "brainiac," Rani Patel, to form their own all-girl team called "Code One." Computer coding isn't easy, and the young ladies get more than they bargain for when hilarious mishaps stand in their way. It's girls versus boys in the computer coding competition as Sophie and her friends work day and night to prove that anything boys can do girls can do better
Here's what Goodreads reviewers say about Sophie Washington: Code One:


"I love Sophie's strong personality and how relatable she is. Overall, I look forward to each Sophie book and I can't wait to read more "


"Ellis is great at tackling serious issues in a kid friendly manner that is easy to understand. The characters are relatable and the dialogue is believable for that age group. We love Sophie Washington books "


"This is an excellent story presented at a critical time as debates rage regarding gender equality, the need for it, and how negatively the lack of it impacts society. Don't hesitate to read this book. It's well worth your time, whether you're a parent, grandparent or a young teen "


This is the eighth book in the Readers' Favorite five star rated Sophie Washington book series that includes:
Sophie Washington: Queen of the Bee (Book 1)
Sophie Washington: The Snitch (Book 2)
Sophie Washington: Things You Didn't Know About Sophie (Book 3)
Sophie Washington: The Gamer (Book 4)
Sophie Washington: Hurricane (Book 5)
Sophie Washington: Mission Costa Rica (Book 6)
Sophie Washington: Secret Santa (Book 7)
Sophie Washington: Code One (Book 8)
Sophie Washington: Mismatch (Book 9)
Sophie Washington: My BFF (Book 10)
Sophie Washington: Class Retreat (Book 11)
Kids Ages 8-12