Preacher: The 25th Anniversary Omnibus Vol. 2 (Hardcover)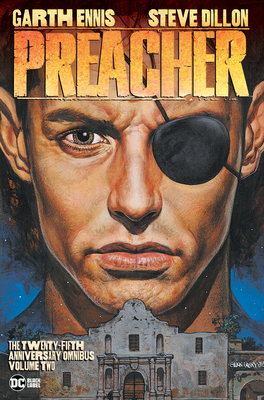 $125.00

Usually Ships in 1-5 Days
Description
---
Collect the next volume of groundbreaking stories from this popular graphic novel series that is the inspiration behind the AMC television series!

Beginning with the "War in the Sun" story, Texan preacher Jesse Custer goes to Monument Valley, where he plans his showdown with God. But Starr and the Saint of Killers have other plans for Jesse's future.

Merging with a bizarre spiritual force called Genesis, Jesse becomes completely disillusioned with the beliefs that he had dedicated his entire life to. Now possessing the power of "the Word," an ability to make people obey whatever he utters, Custer sets off on a dark journey. He loses faith in both humanity and God as he witnesses atrocities and improbable calamities during his travels. Jesse is joined by his gun-toting girlfriend, Tulip, and the hard-drinking Irish vampire, Cassidy, on the rowdy adventures that culminate in the High Noon to end all High Noons.

Included in this omnibus are specials featuring the origins of Arseface, the dastardly adventures of Jody and T.C.--the animal-loving henchmen employed by Jesse Custer's grandma--Jesse and Tulip's early days of love, and much, much more.

The powerhouse creative team of Garth Ennis and Steve Dillon does not disappoint as they take readers on a violent and riotous journey in this award-winning series!

Collects Preacher #34-66, Preacher Special: The Story of You-Know-Who, Preacher Special: The Good Old Boys, Preacher Special: One Man's War, Preacher: Tall in the Saddle, Absolute Preacher Vol. 2, and Absolute Preacher Vol. 3.
About the Author
---
Garth Ennis has been writing comics for over twenty years, initially for British titles like 2000 AD and Crisis, then for various American publishers. As well as Preacher—which he co-created with Steve Dillon—his credits include Hellblazer, Hitman, War Stories, Adventures In The Rifle Brigade, Kev, Battler Britton, The Boys, Battlefields, Dan Dare, 303, The Chronicles Of Wormwood, Crossed, Streets Of Glory, Dicks, The Punisher, Fury and The Pro. Originally hailing from Belfast, Northern Ireland, he now resides in New York City with his wife, Ruth.

Artist Steve Dillon grew up drawing from an early age; the London native received his first professional assignment at age 16. His work for various UK publishers led to his being offered work on Vertigo's Hellblazer which paired him with writer Garth Ennis. They went on to create the award-winning Preacher.