Judge Dredd: Origins (Paperback)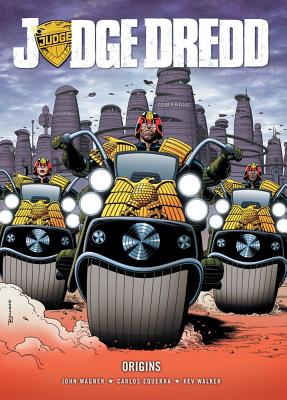 $19.99
Email or call for price.
Description
---
The birth of Judge Dredd's world is revealed. How America became a wasteland with two enormous Mega-Cities on each seaboard. How Judge Dredd himself came to be, and his first taste of dealing justice on the streets. Secrets will be revealed. The future will be forged. Justice will be served.

An unusual delivery is made to the Grand Hall of Justice, a package that will force Dredd to lead a mission into the Cursed Earth and into the darkest recesses of the history of the Judges and Mega-City One... Now in this much-anticipated Dredd epic, history is written by Dredd co-creators John Wagner (A History of Violence) and Carlos Ezquerra (Strontium Dog) with a special introductory tale featuring the art of Kev Walker (ABC Warriors: Khronicles of Khaos).
About the Author
---
John Wagner has been scripting for 2000 AD for more years than he cares to remember. His creations include Judge Dredd, Strontium Dog, Ace Trucking, Al's Baby, Button Man and Mean Machine. Outside of 2000 AD his credits include Star Wars, Lobo, The Punisher and the critically acclaimed A History of Violence.

Carlos Ezquerra was the co-creator of Judge Dredd, Strontium Dog, Rat Pack, Major Eazy and many other fan favourite characters, he designed the classic original Dredd costume as well as visually conceptualising Mega-City One. In addition to these credits he also illustrated A.B.C. Warriors, Judge Anderson, Tharg the Mighty, and Cursed Earth Koburn amongst many other stories. Outside of the 'Galaxy's Greatest Comic', Ezquerra illustrated the first Third World War episodes in Crisis magazine, and become a regular collaborator with Garth Ennis, working on Adventures in the Rifle Brigade, Bloody Mary, Just a Pilgrim, Condors, The Magnificent Kevin and two special Preacher episodes. He died in 2018 but his profound influence on the world of comic art cannot be overstated.