A Shimmer of Hummingbirds: A Birder Murder Mystery (Paperback)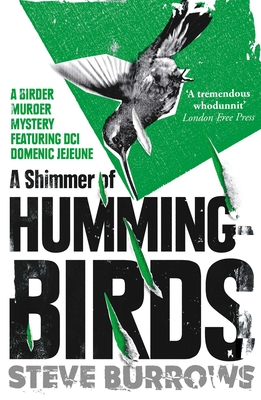 $16.49
Email or call for price.
Other Books in Series
This is book number 4 in the Birder Murder Mystery series.
Description
---
Book 4 in Steve Burrows's gripping Birder Murder mystery series

Chief Inspector Domenic Jejeune hopes an overseas birding trip will hold some clues to solving his fugitive brother's manslaughter case. Meanwhile, in Jejeune's absence his long-time nemesis has been drafted in as cover to investigate an accountant's murder. And unfortunately Marvin Laraby proves just a bit too effective in showing how an investigation should be handled.

With the manslaughter case poised to claim another victim, Jejeune learns an accident back home in Britain involving his girlfriend, Lindy, is much more than it seems. Lindy is in grave danger, and she needs Jejeune. Soon, he is faced with a further dilemma. He can speak up on a secret he has discovered relating to Laraby's case, knowing it will cost his job on the north Norfolk coast he loves. Or he can stay silent, and let a killer escape justice. Turns out that sometimes the wrong choice is the only one there is.
About the Author
---
Steve Burrows has pursued his birdwatching hobby on six continents. He is a former editor of the Hong Kong Bird Watching Society magazine and a contributing field editor for Asian Geographic. Steve now lives with his wife, Resa, in Oshawa, Ontario.
Praise For…
---
'It is difficult to know what non-birders might make of all this, but it is different enough to be an interesting addition to the crime genre and worth the read.'
— Bird Watch

'Skillfully written, full of moral ambiguities and artful puzzles, with a spine-tingling final sentence.'
— Kirkus starred review

'The Birder Murders are getting better and better as they come off the presses, with A Shimmer of Hummingbirds the most dazzling of all — so far.'
— 10,000 Birds Blog

'Action…alternates between Colombia and Norfolk in this enjoyable book, where Burrows' gift for haunting landscape descriptions is much in evidence.'
— Eastern Daily Press

'Hummingbirds is a well-constructed examination of the ties that bind and unbind us, at work and within families.'
— Shots Magazine

'Readers don't have to be birders to appreciate the two parallel investigations, and the solid police work in a mystery marked by well-developed characters and topical environmental issues. For aficionados of British procedurals.'
— School Library Journal

'Riveting.... Burrows keeps the tension high all the way to the chilling climax. Bird lovers will enjoy the avian lore.'
— Publishers Weekly

'Burrows' writing improves with every novel, and Jejeune continues to be an exciting, multidimensional, thoroughly engaging series lead. A splendid instalment in a fine series.'
— Booklist

'A well-paced and plotted story that jumps seamlessly between the frigid climes of the English seashore to the humid rainforests of Colombia.'
— Mystery Scene Magazine

'Good incidents and a satisfying finish with a strong sense of place.'
— Mystery People

Praise for the Birder Murder Mysteries:

'A murder plot built around birdwatching doesn't, at first, seem plausible or even possible. But Burrows pulls it off...Riveting from first page to final line.' Globe and Mail

'A suspenseful and well-crafted mystery perfect for the beach.' Morning Star

'A neatly-constructed and well-told police procedural. If you like north Norfolk you'll feel as though you're there. If you like birds you'll feel as though you're in heaven.' The Bookbag

'A cleverly written novel that proves A Siege of Bitterns wasn't just an offbeat one-off. This blend of procedural and cosy is just right for followers of M. C. Beaton's Hamish Macbeth.' Booklist