Blade Runner 2019: Vol. 1: Los Angeles Artist's Edition (Hardcover)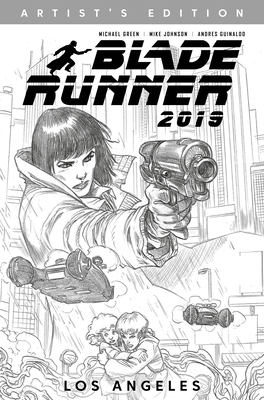 $29.99

Usually Ships in 1-5 Days
Description
---
A 128-page collection of the black and white artwork from the smash-hit, critically acclaimed Blade Runner 2019 comic seris drawn by Andres Guinaldo, collecting together issues #1 - #4 of the Los Angeles arc.

This collection of Andres Guinaldo's artwork, previously unpublished in this form, includes never-before-seen layouts, roughs, thumbnails, sketches and cover roughs, giving a unique glimpse into the process of the artist. The collection also includes an interview between Andres and the writers Michael Green (co-screenplay writer of Blade Runner 2049,Logan and Murder on the Orient Express) and Mike Johnson (New York Times-bestselling writer of Star Trek,Transformers,Superman/Batman and Picard).
About the Author
---
Michael Green is a New York American writer and producer. In addition to writing for television, Green has written several feature film screenplays, including  Logan ,  Alien: Covenant ,  Blade Runner 2049  and  Murder on the Orient Express , all in 2017. For Logan, which he co-wrote with  James Mangold  and  Scott Frank , Green was nominated for an  Academy Award for Best Adapted Screenplay . He is also the co-author of several graphic novels including Batman: Lovers and Madmen, Super-Man/Batman and Supergirl with Mike Johnson.

Mike Johnson is a prolific comic book writer with credits writing Titans, Superman, Batman, Star Trek: Nero and Star Trek: The Official Motion Picture. He is the ongoing writer of the IDW Star Trek series, as well as comic book tie-ins to Fringe, Transformers.

ANDRES GUINALDO is a Spanish penciller, inker and cover artist. He has worked for Marvel, and DC comics on titles such as Captain America, The Riddler, The Joker, Son of Hulk, and Hawkeye. His first comic was drawing Joe R. Landsdale's The Drive-in and By Bizarre hands. He hails from Segovia, Spain.
Praise For…
---
"Builds upon what has come before and presents a new anti-hero for fans and readers to enjoy, appreciate and cheer on. The extra goodies that come in this Artists Edition are a treat as well ... the sort of book any dedicated comics reader, sci-fi lover or Blade Runner fan must have in their shelves. 5/5" - Pop Cult HQ

"Gorgeous" - BORG.com


"An inherently fascinating read from cover to cover...a 'must' for all dedicated Blade Runner fans and will leave its fully entertaining readers looking eagerly towards the second volume in this outstanding science fiction volume series from the team of Michael Green, Michael Johnson, and Andres Guinaldo." -Midwest Book Review