Hilda and the Black Hound: Book 4 (Hildafolk) (Paperback)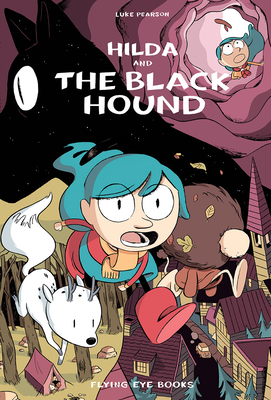 $10.99
Email or call for price.
Description
---
Hilda Season 1 is now on Netflix!

"Luke Pearson is one of the best cartoonists working today. Hilda is utterly brilliant!"
—Raina Telgemeier, creator of Smile

The fourth in Luke Pearson's acclaimed series of magical adventures starring Hilda, our favorite blue-haired heroine—now in paperback!

Hilda stumbles upon Tontu, a lost house spirit. Plunged into the secret world of the Nisse, Hilda discovers hidden passages that only the house spirits can navigate—and something has been ransacking them all!
About the Author
---
Luke Pearson is the artist and writer of the Hilda series of graphic novels. He has fast become one of the leading talents of the United Kingdom and United States comics scene, garnering rave reviews from the New York Times and the School Library Journal. He was the winner of the Young People's Comic category at the British Comic Award in 2012, and he has been nominated for the Eisner Award's Best Publication for Kids and Best Writer/Artist in 2013. He has recently written and storyboarded multiple episodes of the cult classic show Adventure Time. He lives in Bristol, United Kingdom.
Praise For…
---
Hilda is now on Netflix! Season 2 coming soon!

"Luke Pearson is one of the best cartoonists working today. Hilda is utterly brilliant!"
—Raina Telgemeier, creator of Smile

"Plain smart and moving. John Stanley's Little Lulu meets Miyazaki."
—Guillermo Del Toro

"Luke Pearson's Hilda stories are beloved in our house, and they will surely be enjoyed by audiences for many years to come."
 —Kazu Kibuishi, creator of Amulet

"In Hilda, Luke Pearson has created a truly odd and amazingly beautiful world—Stunningly personal and original. I am in awe of his imagination. He is a real inspiration."
—Mike Mignola, creator of Hellboy

A School Library Journal Top Graphic Novel of 2014
A Booklist Top 10 Graphic Novel for Youth of 2014
A Texas Library Association Little Mavericks Nominee for 2015

"Pearson's utter lack of pretension keeps Hilda feeling fresh, while his reading of folktales and Tove Jansson's Moomin series embeds Hilda in the long history of children's stories. […] Hilda's dilemmas, while fantastic, also feel real […] Pearson has found a lovely new way to dramatize childhood demons, while also making you long for your own cruise down the fjords."
—The New Yorker

"Though definitely an underachiever when it comes to merit badges, Hilda's broad curiosity and willingness to stand up for the undergnome will make her a winner in most readers' eyes."
—Kirkus Reviews

"In gorgeous, oversize pages filled with warm jewel tones, Pearson's varied panel layouts and detailed, purplish backgrounds artfully carry emotional weight and subtle humor in equal measure… Every volume of this fairy-tale-adventure series is a must-have."
—Booklist

"Pearson has mastered both the gentler aspects of creating a compelling children's character along with the art of conjuring an exciting, kinetic comic book adventure. The fourth book in the Hilda series is the best, as the character is now established enough on the page to allow for a greater exploration of her environment. The design, the use of color and especially Pearson's line are all impeccably beautiful without being slick."
—The Comics Journal

"[Hilda's world] is. . . a glorious, exciting if also rather menacing place—one children will be eager to enter. It's also visually arresting: exuberant and lively and faintly Miyazakian."
—The New York Times

"Hilda is the little girl. And this is her folk tale. And pretty much everything you need to know about how good this is is there on that absolutely gorgeously delightful cover. By the end of it, you'll have exactly the same smile as Hilda has."
—Forbidden Planet

"For adults ... Pearson's measured storytelling ... and detailed, imaginative artwork make Hilda and the Bird Parade an absolute treat to dive into. It's hard to imagine a better all-ages comic will be published this year."
—Slate

"With the Hildafolk series, Luke Pearson has carved himself a unique niche in the UK comics scene: a successful all-ages graphic novel series and it is much deserved. It is clearly the vision of one man and Hilda and the Black Hound is another thrilling and alluring instalment to Pearson's signature series."
—Broken Frontier

"The Hilda books follow the exploits of a smart, blue-haired girl who lives in a village called Trolberg with her mom and her antlered pup named Twig. Pearson expertly mixes fantasy elements with familiar everyday stuff—for instance, in this volume, Hilda joins the scouts and has trouble completing the tasks she needs to do in order to earn her badges." 
—Mental Floss

"Hilda and the Black Hound is filled with magic, in all senses of that word."
—Comics Bulletin

"This is perfection in sixty-four pages. Hilda is brave, resourceful, compassionate, capable of epically screwing up, and always does things with the very best of intentions; in other words, totally human. Charmingly and enticingly illustrated, the icing on the cake is the fact that Pearson never dumbs things down for his audience. The resulting dry wit found in both text and illustrations is as appealing to adults as it is to kids."
—Foreword Reviews

"Hilda is a curious, intelligent, and adventure-seeking protagonist. Fans will delight in her adventures, and Pearson's lush art is gorgeous without being crowded."
—School Library Journal

"The Black Hound takes the strongest elements of the art styles from all of the previous Hilda books and combines them into one really wonderful volume of art. […] the adventure here is entertaining and moving."
—Comics Alliance