Ein Galaktisches Abenteuer Im All (a Galactic Space Adventure, Deutsch/German Language Edition) (Hardcover)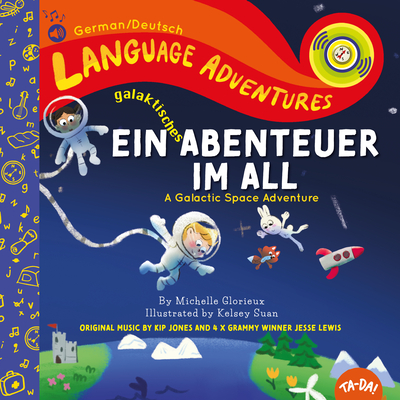 Description
---
Fun, award-winning early language learning--right when it matters most, ages 0-5. Blast off into space with this interactive talking book and delight babies, toddlers, and preschoolers with German words pronounced by native speakers, original music, and seek-and-find activities. Creative cardboard box time turns into an unexpected trip...out of this world Strap on your moon boots and join two best friends and their stuffed animal sidekicks as they get to experience a bird's eye view of our solar system--and the wondrous home we all share, planet Earth. Touch paper electronics allow kids to simply touch the images on the paper of an otherwise normal-looking board book and hear 12 German vocabulary words spoken by native speakers. The magic is enhanced with beautiful art from an Oscar winner and 12 unique, original tunes produced by Grammy-winning sensation Jesse Lewis Part of TA-DA 's award-winning, internationally bestselling Language Adventures series, A GALACTIC SPACE ADVENTURE weaves culture, storytelling through art, music, sound and imagination to bring languages to your youngest learners, creating a strong foundation and a lifelong love of languages and culture. It's the perfect German-learning book for kids, and like having a native-speaking language teacher in your own home. THIS BOOK TALKS LEARN
German in an unforgettable way. TOUCH
the illustrated sound button on each page. HEAR
real, native speakers pronounce 12 space words in German. SEE
full-color illustrations by Kelsey Suan, background artist for the Oscar-Award winning animated short "Hair Love," that drive discovery and exploration. GROOVE
to 12 original tunes produced by 4-time Grammy Award winner Jesse Lewis. - Our crisp, clear, cutting-edge sound technology ensures you'll never miss a beat--or a word
- Matching sounds to pictures and words improves language comprehension
- Seek-and-find games increase positive associations...and the fun factor
- Screen-free learning that kids can interact with by themselves, or share with a caregiver or family member, even if the adult doesn't speak German
- The German in this book was vetted by the K-12 immersion school GISSV (German International School of Silicon Valley), accredited by the German Government and officially recognized as a renowned "Excellent German School Abroad" by the German Government
- Safety-tested for ages 0-5+
- Batteries are included and can easily be replaced
- The Language Adventures series is a 2021 Brain Child Award Winner from Tilliwig Toy Awards and a 2020 Moonbeam Children's Book Awards Gold Medal Winner TA-DA : the standard in children's home and classroom-based language learning.