Mediterranean Diet Desserts Cookbook: Easy and Mouthwatering Desserts Recipes, Your Decisive Choice for Eating and Living Well (Hardcover)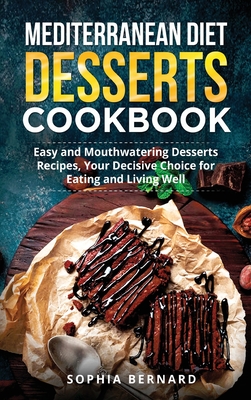 $34.95
Email or call for price.
Description
---
Discover How to Liven up Your Meals, Boost Your Energy, Shrink Unwanted Fat and Satisfy Your Sweet Tooth With the Ultimate Mediterranean Dessert Cookbook
Are you a huge fan of desserts but find the current sugar and carb-loaded options too detrimental to your health? Do you want to start eating healthy but are unable to resist your sugar cravings? Are you looking to lose fat quickly and effectively without sacrificing sweet foods, delicious snacks, and other crave-worthy finger foods?
If any of the above sounds like what you might need help with, then this cookbook is for you
Your Customers will Find this Cookbook very Useful and will Continue to use it
In this cookbook, you're going to uncover a wonderful variety of dessert recipes that brings the health and vitality of the Mediterranean and helps you enjoy the mindblowing pleasure of delicious desserts without any of the guilt or drawbacks of regular, but unhealthy desserts.
In the pages of the Mediterranean Diet Desserts Cookbook, you're going to discover:
● Easily sourced ingredients: All recipes in this cookbook has ingredients you can conveniently find at your local supermarket, grocery store, or farmer's market
● Loads of delicious desserts: You won't believe how mind-blowingly scrumptious these Mediterranean desserts taste until you try them. They will make you fall in love with desserts again
● Fuss-free preparation instructions: The dessert recipes in this cookbook have step-by-step instructions that are easy to follow and can be whipped up in minutes
● Detailed nutritional information: Each recipe comes with complete nutritional value information to help you effectively keep track of your calorie intake and stay on top of your macro and micronutrients with ease
● ...and more
Designed for individuals who want to eat healthily but don't have the willpower to resist their sugar cravings, this special cookbook is packed with tons of healthy and nummy recipes with sugary sweet sensations that will help you eat better without sacrificing your sweet tooth
Buy it NOW Your Customers will be Satisfied to use this Amazing Cookbook