A Long Petal of the Sea: A Novel (Hardcover)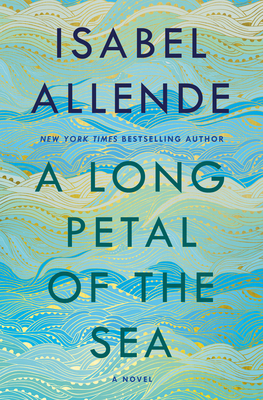 Staff Reviews
---
At the end of the Spanish Civil War, with the aid of Pablo Neruda, refugees boarded the SS Winnipeg bound for Chile. This novel follows the lives Victor and Roser Dalmau, an unlikely couple that is a product of a war-town Spain, as they establish a new life in Chile. This story is about the perseverance of starting over for the sake of family. As always, Allende's writing is beautiful and she presents an unique story with great characters. This novel was just published in January, and is still in hardcover, however this is now probably my favorite work of fiction from Isabel Allende.
— Anastasia
February 2020 Indie Next List
---
"Isabel Allende's latest novel couldn't come at a better time for American readers heading into an election season. With immigration and desperate people seeking asylum as its central narrative thread, the novel reminds us of the uncanny resiliency of the human spirit and the power of love — both of others and of country — to restore and heal. From his awe-inspiring feat in the novel's opening pages to his persistence in the face of a lifetime of adversity, cardiologist Victor Dalmau will live long and well in readers' minds."
— Kelly Barth, Raven Book Store, Lawrence, KS
Description
---
NEW YORK TIMES BESTSELLER • From the author of The House of the Spirits, this epic novel spanning decades and crossing continents follows two young people as they flee the aftermath of the Spanish Civil War in search of a place to call home.

"One of the most richly imagined portrayals of the Spanish Civil War to date, and one of the strongest and most affecting works in [Isabel Allende's] long career."—The New York Times Book Review

In the late 1930s, civil war grips Spain. When General Franco and his Fascists succeed in overthrowing the government, hundreds of thousands are forced to flee in a treacherous journey over the mountains to the French border. Among them is Roser, a pregnant young widow, who finds her life intertwined with that of Victor Dalmau, an army doctor and the brother of her deceased love. In order to survive, the two must unite in a marriage neither of them desires.

Together with two thousand other refugees, they embark on the SS Winnipeg, a ship chartered by the poet Pablo Neruda, to Chile: "the long petal of sea and wine and snow." As unlikely partners, they embrace exile as the rest of Europe erupts in world war. Starting over on a new continent, their trials are just beginning, and over the course of their lives, they will face trial after trial. But they will also find joy as they patiently await the day when they will be exiles no more. Through it all, their hope of returning to Spain keeps them going. Destined to witness the battle between freedom and repression as it plays out across the world, Roser and Victor will find that home might have been closer than they thought all along.

A masterful work of historical fiction about hope, exile, and belonging, A Long Petal of the Sea shows Isabel Allende at the height of her powers.

Praise for A Long Petal of the Sea

"Both an intimate look at the relationship between one man and one woman and an epic story of love, war, family, and the search for home, this gorgeous novel, like all the best novels, transports the reader to another time and place, and also sheds light on the way we live now."—J. Courtney Sullivan, author of Saints for All Occasions

"This is a novel not just for those of us who have been Allende fans for decades, but also for those who are brand-new to her work: What a joy it must be to come upon Allende for the first time. She knows that all stories are love stories, and the greatest love stories are told by time."—Colum McCann, National Book Award–winning author of Let the Great World Spin
About the Author
---
Born in Peru and raised in Chile, Isabel Allende is the author of a number of bestselling and critically acclaimed books, including The House of the Spirits, Of Love and Shadows, Eva Luna, Paula, and In the Midst of Winter. Her books have been translated into more than forty-two languages and have sold more than seventy-four million copies worldwide. She lives in California.
Praise For…
---
"Majestic . . . both timeless and perfectly timed for today . . . Allende's assured prose vividly evokes her fictional characters [and] historical figures . . . seamlessly juxtaposing exile with homecoming, otherness with belonging, and tyranny with freedom."—Publishers Weekly (starred review)

"A tale that is seductively intimate and strategically charming . . . a virtuoso of lucidly well-told, utterly enrapturing fiction . . . Allende deftly addresses war, displacement, violence, and loss in a novel of survival and love under siege."—Booklist (starred review)

"A Long Petal of the Sea is a rich and transportive novel, epic in scope, about finding love and finding home."—PopSugar
 
"An absorbing story."—AARP
 
"An immersive read about love and survival."—Real Simple
 
"Isabel Allende has time and again proven herself a master of magical realism. Her latest novel . . . serves as a paean to human love and endurance."—Elle
 
"Allende fans have been waiting with bated breath for her latest novel, and A Long Petal of the Sea doesn't disappoint."—Marie Claire
 
"The wondrous Isabel Allende is back, doing what she does best."—Read It Forward
 
"In addition to being well-researched historical fiction, it also parallels current issues."—Book Riot
 
"Powerfully told, this is a soaring, inspirational tale."—The Orange County Register

"Allende . . . has deftly woven fact and fiction, history and memory, to create one of the most richly imagined portrayals of the Spanish Civil War to date, and one of the strongest and most affecting works in her long career." —The New York Times Book Review
 
"Allende's latest . . . marks a return to the time and setting of the book that jump-started her literary career, The House of the Spirits, but with far less supernatural elements and a more expansive engagement of revolution, exile and the determination of the human spirit. . . .  A page-turning story rich with history and surprising subplots that keep the novel unpredictable to the end." —Los Angeles Times
 
"Isabel Allende's A Long Petal of the Sea gets to the heart of immigrant struggle. . . . [It] begins, as it ends, with the heart. . . . Victor and Roser's story is compelling. . . . Allende's prose is both commanding and comforting. The author writes eloquently on the struggle of letting go of one culture to embrace a new one and shows that one's origin story is not the whole story. . . . While debate and policy surround the issues of refugees and immigration, Allende reminds us that these issues, at their core, are made up of individuals and their love stories." —USA Today