Baby Yoda Coloring Book: +50 One Sided Coloring Pages for Kids and Adults with The Mandalorian Scenes and Characters. Plus Unique Baby Yoda Mas (Paperback)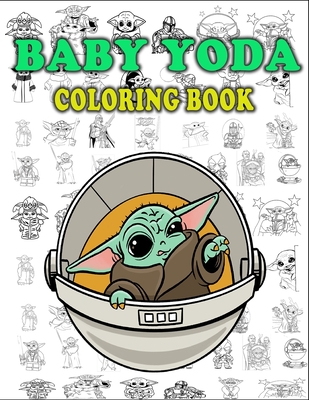 Description
---
This coloring book has 50 detailed Baby Yoda Star Wars related drawings, all are stress relieving patterns that can lead you to a wonderful fantasy world.
Every coloring page is designed to help relax and inspire. You can use any coloring tool (pencils, pens, markers, crayons)you like to have your own drawing style.
You will have the joy of coloring and reduce stress This book can help calm kids down and make them be patient and peaceful
You will Love this Coloring Book. It offers:
Stress Relieving Designs that are Great for Relaxation. Each coloring page is designed to provide calmness and relaxation as you channelize your energies for creative expression.
The pages are single-sided to prevent bleed-through, and so that pages can be removed and displayed without losing an image on the back.
Perfect For Every Skill Level: Great For Growing Your Skills.
High Resolution Crisp Clean Printing Of Illustrations.
Makes a Wonderful Gift. Know someone who loves to color? Make them smile by getting them a copy too. You could even color together